The School of Pharmacy at the Lake Erie College of Osteopathic Medicine (LECOM) inducted 30 new members into its campus chapter of the Rho Chi Society, the national academic honor society in pharmacy.
Rebecca Wise, Pharm.D., M.Ed., Director of Admissions and Assistant Professor of Pharmacy Practice for the LECOM School of Pharmacy, and 29 second- and third-year pharmacy students were inducted into the campus chapter, Gamma Tau. Dr. Wise is a 2005 Doctor of Pharmacy graduate of LECOM.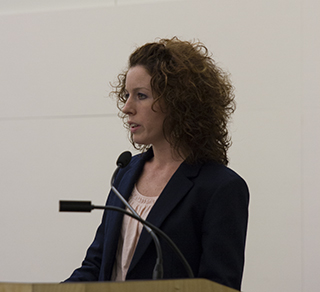 Sarah Moffett, Pharm.D., a 2007 LECOM graduate and member of Rho Chi, gave the keynote address at the induction ceremony.
The Rho Chi Society's mission is to encourage and recognize excellence in intellectual achievement and foster fellowship among its members. The Society strives to achieve recognition of its members as lifelong intellectual leaders in pharmacy and to raise awareness of the ethical and social responsibilities of the profession.
The new inductees include:
From LECOM's Doctor of Pharmacy Class of 2014: Maria Adejoro, Kylie Boyer, Luan Dinh, Jenna Edwards, Erin Kiefer, Kristen Koszela, Hoang Vo.
From LECOM's Doctor of Pharmacy Class of 2015: Jennifer Addo, Lauren Altmeyer, Angela Banks, Maher Beydoun, Emily Bohlender, Scott Bragg, Kendra Delibert, Stephanie Farabaugh, Kevin Fusselman, Shannon Gowen, David Kautz, Amruth Krishnamurthy, Janice Li, Seth McCleary, Robyn Moodt, Mike Ong, Mili Patel, Sorana Pisano, Colleen Rogers, Shawn Sopic, Emily Supenia, Mark Wible.
During the ceremony, Janene Madras, Pharm.D., BCPS, BCACP, Director of Student Services, Associate Professor and Faculty Advisor, noted that inductees to Gamma Tau represent the top 20 percent academically of their class. "As the initiates join our ranks, they not only accept the honor and privilege of Rho Chi membership, but also dedicate themselves to a lifetime of commitment to the Society and its values," Dr. Madras said.
Sarah Moffett, Pharm.D., a clinical pharmacist at UPMC Hamot and a board certified pharmacotherapy specialist, served as the event's keynote speaker. Dr. Moffett is also the assistant director of the PGY1 (post graduate year) residency program at UPMC Hamot and is president-elect of the Northwestern chapter of the Pennsylvania Society of Health-System Pharmacists (PSHP).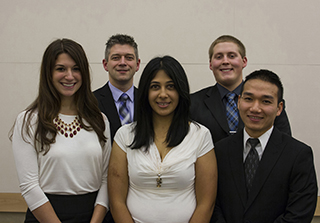 The new Rho Chi officers include (l-r) Shannon Gowen, David Kautz, Mili Patel, Kevin Fusselman, and Mike Ong.
Her remarks to the students and their family members focused on the importance of leadership. "Leaders see a need and address it," said Dr. Moffett, a 2007 graduate of the LECOM School of Pharmacy and a member of Rho Chi. "They are not content to look the other way and pretend that all is fine. They have an unwavering commitment to the profession and they constantly challenge the limits of their knowledge. Good leaders work in any setting and with any person or issue that comes along, without complaint.
"As members of Rho Chi, you should be the kind of pharmacist who sees problems and works to identify solutions and who serves as a positive example of pharmacy practice for both students and patients," she continued. "Strive to be the type of pharmacist who motivates others to become better leaders."
The current officers of Gamma Tau, Christopher Bender, president; Bryaune Carter, vice president; and Samantha Formeck, secretary; helped induct their fellow students as new members.