Sign Up Now for LECOM Campus Security Alerts
Current LECOM e2Campus subscribers will receive a text message on their cell phone alerting the user that the account is about to expire. This text message comes from a five digit number: 79516. If you receive this message, you should go to the LECOM portal Security Section to log in to e2Campu registration and renew your account.
LECOM Offers Text Message Alerts to Your Cell Phone
LECOM has recently adopted 'e2Campus', a new notification system that enables the school to send urgent news to your cell phone and via other methods. After students and employees sign up for the service, the school can text cell phones with timely information about emergencies, class cancellations, or critical campus reminders.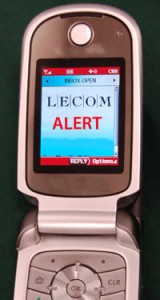 Sign up now for LECOM Security Alerts. Click cell-phone to register.
LECOM is making the service is available to all current students, faculty and staff. e2Campus can notify them instantly of any emergency or development on campus. Cell phones have become the primary source of communications for students. The e2Campus system takes full advantage of the technology that students rely upon for instant information.
Campus police are urging the entire campus community to register. Although e2Campus is an excellent system that can notify the entire campus within minutes, it only works if you take a minute to register yourself in the system.
The notification system will be used to communicate important information during any potential emergency, such as a snow delay or closing, homeland security advisory, weather warning, gas leak, fire, crime watch, power failure, boil-water advisory, parking lot closure, or other emergency event.
The new Version 2.4 system, powered by e2Campus, enables school officials to send instant alerts directly to registered subscribers' email accounts and mobile phones via SMS text messages. Subscribers can also receive the alerts via RSS, wireless PDA, and your "My Yahoo", "My AOL", or personalized iGoogle home page. Another new feature, called SEED, ensures 100% alert coverage of all campus users from day one – whether they have opted-in to the alerts or not. This new version will enable a greater broadcast of time-sensitive communication to reach ALL students, faculty and staff whether they are in class, at home, or at their office desk.
To learn more or to sign up, go portal.lecom.edu Security Section for a link to the e2Campus login and registration.
Depending on personal cell phone plans, there may be a nominal fee from your carrier to receive text messages, but there is no charge from the school to use the service.