Considering a career in the medical field? Ever thought of becoming a physician, pharmacist or dentist? High school students can get a first-hand look at what it takes to be a medical practitioner though the Lake Erie College of Osteopathic Medicine's Human Body Explored (HBE) program.
HBE is a comparative anatomy and physiology course that includes hands-on laboratory activities. Students will learn from current students and faculty in LECOM's Problem Based Learning curriculum and get the chance to visit local hospitals, research institutions and medical offices.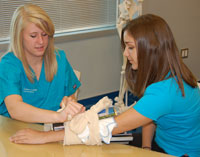 Hands-on laboratory activities are a big part of LECOM's Human Body Explored program, which is currently taking registrations.
"Participating in LECOM's HBE program really solidified what I wanted to do," says Morgan Pyne a Lakewood Ranch High School graduate who attended the HBE program and is now a second-year medical student at LECOM's Bradenton campus. "Looking back, it really prepared me for what I am studying today."
Program registration is currently underway. The program takes place the first or second Tuesday of each month Jan.-May, 5:15-8 p.m. at LECOM's campus at 5000 Lakewood Ranch Blvd. in Bradenton, FL. Cost is $150.
For more information, please contact Dr. Kersten Schroeder at (941) 756-0690 x5963 or kschroeder@lecom.edu.