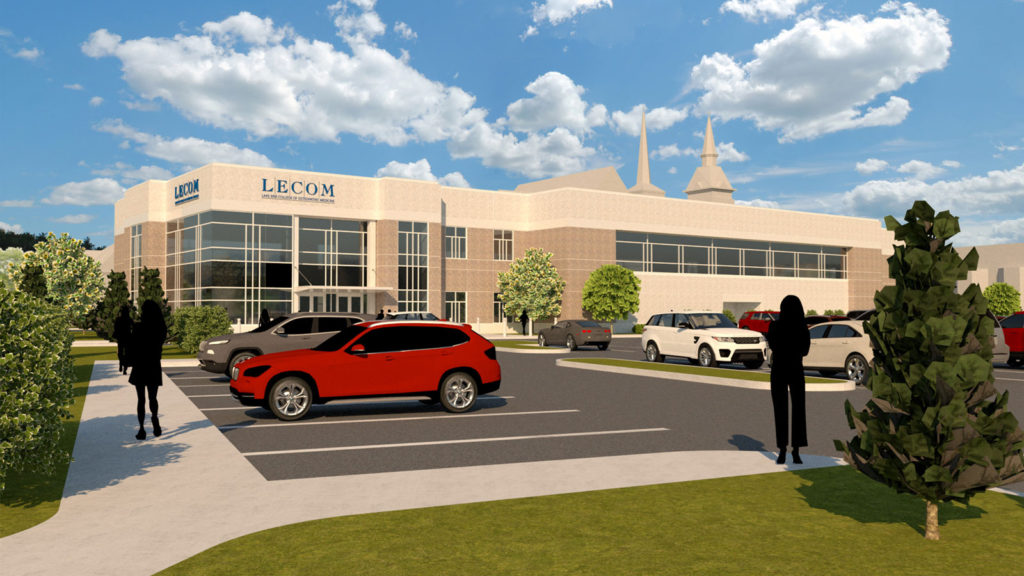 ERIE, PA – The Lake Erie College of Osteopathic Medicine (LECOM) is another step closer to expanding its presence in the Empire State, thanks to a decision by the New York State Education Department.
The state's Board of Regents on Monday approved LECOM's request to operate its Doctor of Osteopathic Medicine program in Elmira, N.Y. With this approval, LECOM is on pace to welcome 120 first-year medical students to its newest campus, LECOM at Elmira, in July 2020.
"Finally receiving approval from the New York State Board of Regents is the culmination of several years' effort. It is a tremendous achievement," said Richard Terry, DO, MBA, LECOM at Elmira associate dean of academic affairs.
In September, the Commission on Osteopathic College Accreditation approved LECOM's application to establish an osteopathic medical school on the Elmira College campus. Construction on a $20 million, 49,000 square-foot facility began in January; completion of the state-of-the-art academic complex is slated for year's end.
The LECOM at Elmira project, which received a $3 million boost from New York's Regional Council awards in December, is expected to have a significant impact on Elmira, Chemung County and the entire Southern Tier region. During the school's initial start-up period, LECOM at Elmira is expected to have a direct and indirect economic benefit on the region to the tune of $60.4 million as well as create more than 300 jobs and add $1.7 million in taxes to local communities.
While LECOM has sent third- and fourth-year students to Elmira's Arnot Health and other Southern Tier hospitals for clinical education since 2012, the introduction of LECOM at Elmira will only further the school's footprint in the region. Traditionally, a large number of LECOM graduates choose to settle in the same area in which they receive their medical training. Should this trend continue, Chemung County will see an influx of health care practitioners in the coming decades, filling a void for the medically underserved in western New York.
By 2028 – when the first class of medical students completes their residencies – the campus' economic impact is expected to grow to $78.9 million. Equally as important, Southern Tier communities will begin realizing the health care benefits and additional economic impact as these LECOM graduates locate in the region and the state.
"LECOM at Elmira will play a critical role in improving access to healthcare in underserved areas of Upstate New York by providing a supply chain for future physicians," said Terry.
LECOM enrolls more than 4,100 students in its College of Osteopathic Medicine, School of Pharmacy, School of Dental Medicine and master's degree programs at campuses in Erie and Greensburg, Pa., and Bradenton, Fla. With 120 students per class, LECOM at Elmira will eventually be home to 480 aspiring osteopathic physicians, further solidifying LECOM's place as the largest medical college in the U.S. Today more than 12,000 LECOM alumni deliver quality health care to patients across the country.