Nationally Recognized LECOM Graduate Addresses Students at White Coat Ceremony
Tuesday, 18 September 2012
Nationally recognized plastic surgeon and 1999 Lake Erie College of Osteopathic Medicine graduate Joseph Racanelli, DO introduced the LECOM Class of 2016 to the rigors of clinical medicine when they received their first white coats.  The white coat ceremony, held on Saturday at the Erie Warner Theater, marks a transition from basic sciences into clinical training that the students will begin receiving this fall.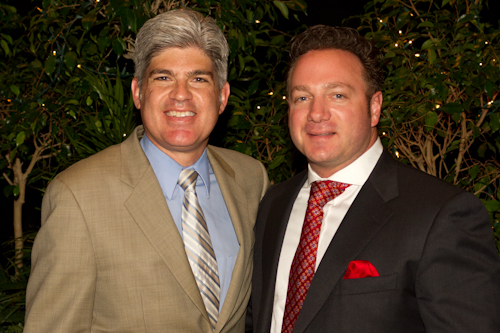 Mark Monaco, DO, (L) President of POMA and Joseph Racanelli, DO (R) addressed the LECOM Medical class of 2016.
The LECOM College of Medicine Class of 2016 numbers 272 students.  They are mid-way through their first semester.  After studying anatomy and basic sciences for seven weeks, they're eager to start clinical training that prepares the students to see patients.
Dr. Racanelli gave the students some real world advice about how to survive medical school. He recalled the roadblocks that he encountered, and how he was able to navigate around them.
While they can overcome the rigors of studying by managing time effectively and they can master standardized tests, he encouraged them to maintain their own health first. "A regular daily exercise regimen proved invaluable for me throughout my time at LECOM, and kept my mind and body sharp," Dr. Racanelli explained. "I was given a tour of the (LECOM) wellness center yesterday and I was very impressed. This state of the art facility has everything that you could possibly need."
He told the students to start thinking now about what you want to do in medicine. "Rotate through hospitals that have residencies and fellowships in specialties that you are interested in," he said. "Make a good impression, work hard, and NETWORK -NETWORK -NETWORK."  He added that their hard work now will pay off when they compete against students from other medical schools for the top residency spots.
"As a graduate of LECOM you will have all the necessary tools to secure a residency in any area of medicine that you choose," Dr. Racanelli continued. "The difference will be what you make of the opportunities given to you. It's not enough to be smart, everyone in this room is smart, it's going to be your hard work, dedication, and perseverance that determine your success."
Dr. Racanelli is a Board Certified plastic and reconstructive surgeon, with offices in New York City, Brooklyn and New Jersey.  In a February 2009 Vanity Fair article, Plastic Surgery Confidential, reporter Melanie Bierlot visited several New York City plastic surgeons to find out what procedures they would recommend that she have.  After visiting several physicians with varying results, she saw Dr. Racanelli.  She wrote, "The last surgeon (she) visited, Dr. Joseph A. Racanelli, refused to make generalized recommendations: "The way it works is: you tell me if something specifically bothers you, and I'll tell you if I can address it."  She concluded that Dr. Racanelli reminded me that how I look should be my choice.  New Jersey Magazine named Dr. Racanelli a top physician in 2011 and 2012. To learn more about Dr. Racanelli, visit his website: https://drracanelli.com/
The President of the Pennsylvania Osteopathic Medical Association (POMA) presented new stethoscopes to each medical students.  Mark Monaco, D.O. spoke to the students about the important role POMA has in maintaining the high standards of medical education and  promoting public health in the Commonwealth. The state organization provides the white coats given to the students.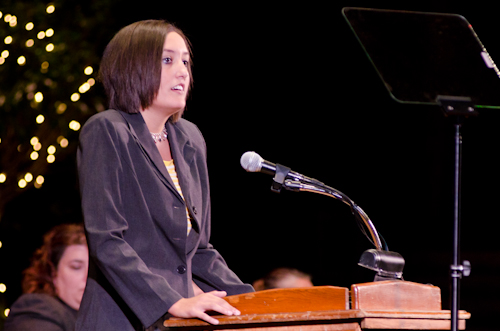 Danielle DeBias, PharmD addressed the pharmacy class of 2016.
LECOM School of Pharmacy Class of 2015 will also receive white coats during a separate ceremony at on Saturday.   Faculty member Danielle DeBias, PharmD, LECOM Class of 2009, addressed the 143 pharmacy students of the Class of 2015.  LECOM Erie pharmacy students graduate with the doctor of pharmacy degree in a fast-track, three-year program.  Rite-Aid provides the pharmacy white coats.
---
To view photos the LECOM Erie White Coat Ceremonies, please visit the LECOM SmugMug Photo Gallery.