More than 500 student doctors attend Hospital Day
Event allows students to learn about rotations, residencies and other opportunities
Doctor of Osteopathic Medicine (DO) students from LECOM had the opportunity to meet with physicians, residents, and administrators from nearly 60 hospitals during the College's annual Hospital Day, held at the Erie Shrine Club.
More than 500 students, most in their first and second years, were able to learn more about hospitals from Pennsylvania, New York and Ohio as well as West Virginia, Michigan, Florida, Texas, and Virginia – all in one venue. Hospital Day allows the students to ask questions and gather information about rotations, residencies, and fellowships.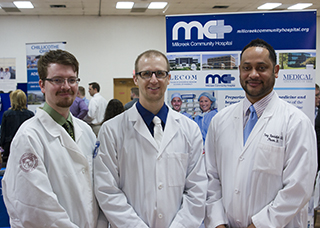 Residents Brandyn Mason, DO, Mark Strand, DO, and Tony Randolph, DO, represented MCH at LECOM's Hospital Day in Erie. Dr. Mason and Dr. Randolph were among the LECOM alumni to participate.
"Hospital Day was a great and convenient opportunity to interact with staff from the clinical sites we've been hearing about," said Kelly T. Joyce, OMS1, president of Student Government Association. "I appreciated being able to explore possibilities for future rotations and internships, and I look forward to pursuing clinical education at one of the sites."
Said William C. Linville, OMS1, "The event was very worthwhile because it allowed us to learn more about residencies and the other programs and meet with their representatives."
A number of LECOM alumni were on hand to represent their current hospitals, including Brandyn Mason, DO, and Tony Randolph, DO, both now in residency at Millcreek Community Hospital, a teaching hospital of LECOM. Dr. Mason and Dr. Randolph are 2012 and 2013 LECOM graduates, respectively.
In addition, Sara Payne, DO, and Karen Lee, DO, 2011 LECOM graduates, represented Oakwood Hospital – Southshore in Trenton, Mich., where they are third-year OB/GYN residents. Charles Walcott, DO, a 2012 graduate, represented United Health Services/Wilson Medical Center in Johnson City, N.Y., where he is a second-year family medicine resident.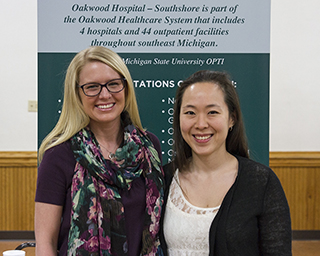 Sara Payne, DO, and Karen Lee, DO, 2011 LECOM graduates, represented Oakwood Hospital — Southshore in Trenton, Mich.
More than 200 students at LECOM's campus at Seton Hill University in Greensburg, Pa., participated in their own Hospital Day. Nearly 40 hospitals participated in the event, held at the Fred Rogers Center at Saint Vincent College in nearby Latrobe, Pa.
---
LECOM is the nation's largest medical college and with Millcreek Community Hospital and the Clinical Practices of Erie forms the only osteopathic Academic Health Center in the United States. LECOM is at the core of this highly innovative medical education system and strives to add to the quality of life of its neighbors by bringing total health care to the community. LECOM is preparing the next generation of physicians, dentists and pharmacists at campuses in Erie and Greensburg, Pa. and in Bradenton, Fla.