Are you interested in teaching and learning issues? Would you, your students, or your institution benefit from thorough training in medical education? Would you like to earn a formal credential in medical education to document your specialized training in medical education?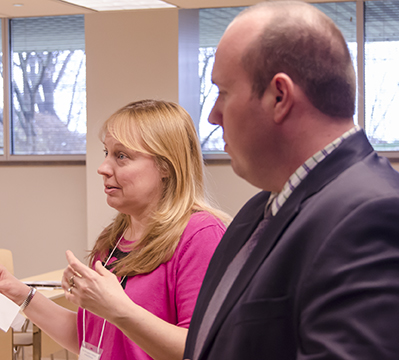 Instructional Design Assistant Carrie Kennedy (left) joins Dr. Mark Terrell to address the MS Med.Ed Capstone facilitators.
If you have answered yes to any of these questions, you should consider applying to LECOM's Master of Science in Medical Education (MS Med Ed) degree program. This online program delivers content via distance education over four semesters and is free to LECOM faculty (PhD, DO or other terminal degree).  The annual start date for the Program is in January and we are working toward finalizing the enrollment. If you are interested in applying, please contact Mark Terrell, Ph.D., at 814-860-5121 or by email: mterrell@lecom.edu.  Also, feel free to contact Dr. Terrell with any questions. Enrollment will be finalized by mid-January.
Recently the current class of MS Med Ed candidates attended a three-day Capstone Conference in Medical Education.  This conference served as a culmination of a two-year course of study required for the degree Master of Science in Medical Education. During the conference, interactive workshops and lectures allowed the students to explore, apply, and practice educational skills that are essential to the development, delivery, and evaluation of teaching and learning in the health professions education, including medicine and pharmacy.  Interactive sessions focused on topics of teaching difficult learners, lecturing, small-group teaching, teaching and learning styles, feedback and evaluation, educational research, and curriculum development.  The Conference was directed by Dr. Mark Terrell, with assistance from Drs. Hershey Bell, Mark Kauffman, and John Kalata with some of the interactive workshops. Twenty-three conference attendees consisted of 14 Millcreek Community Hospital residents, five pharmacy faculty, one medical faculty, and three Lake Erie Consortium for Osteopathic Medical Training member physicians.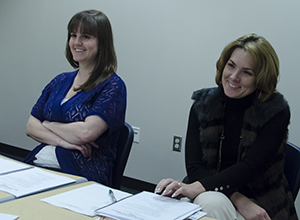 The purpose of LECOM's Master of Science in Medical Education program is to provide formalized and credentialed training in the knowledge, skills, and behaviors needed improve teaching and learning in the health-professions, thereby improving the quality of health care. The program provides its graduates with the tools necessary to assume leadership roles in the health professions, guide curricular reform, conduct educational research and scholarship, and improve teaching and learning outcomes.