LECOM students participate in campus-wide Constitution Day events
Monday, 17 September 2012
Medical students at all Lake Erie College of Osteopathic Medicine campuses took time to learn more about the United States Constitution during the College's annual Constitution Day observance.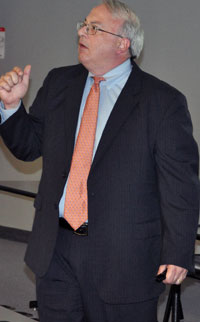 Jeffrey Myers, JD, presents a Constitution Day program at LECOM's Bradenton, Fla. campus.
Jeffrey Myers, JD, associate general counsel at LECOM's Bradenton, Fla., campus gave first- and second-year osteopathic medical students a 30-minute primer, starting with the signing of the Constitution on Sept. 17, 1787 to the Supreme Court's 5-4 decision in June that declared the Patient Protection and Affordable Care Act constitutional.
"I liked the fact that the presentation highlighted how the Constitution applies to medicine," said second-year student Benjamin Schnee. "The Constitution is something we live by every day. It's something we should appreciate and understand how it will impact us as future physicians."
At LECOM's Erie, Pa., campus, Pennsylvania State Senate candidate Sean Wiley spoke to students about life on the campaign trail and Michael Rigelsky, an attorney with Roetzel & Andress, stressed that one of the most significant purposes of the U.S. Constitution is how it reflects American privacy rights.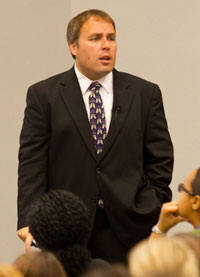 Attorney Michael Rigelsky speaks to medical students in Erie, Pa. about privacy rights and the Constitution.
Irv Freeman J.D., Ph.D., Vice President of Institutional Advancement at LECOM at Seton Hill in Greensburg, Pa., led his students in a spirited discussion of substantive due process. Students examined a recent Supreme Court case about whether the Constitution includes the right for terminally ill patients to take medications not approved by the Food and Drug Administration.
Constitution Day is an American federal holiday that recognizes the ratification of the U.S. Constitution. It is observed on Sept. 17, the day the U.S. Constitutional Convention signed the document in 1787. The law establishing Constitution Day as a holiday was created in 2004. In May 2005, the U.S. Department of Education announced the enactment of this law, which applies to any school receiving federal funds of any kind.