LECOM To Sponsor 2018 Ice Breaker Tournament, Hosted by Mercyhurst University
Friday, 15 September 2017
The Erie Sports Commission (ESC) and Mercyhurst University, home to the Lakers' Division I Ice Hockey, have been chosen to host the 2018 Ice Breaker Tournament. One of the premier NCAA Division I ice hockey tournaments in the nation, the event will be hosted at Erie Insurance Arena Oct. 12-13, 2018. The Lake Erie College of Osteopathic Medicine (LECOM) will serve as the event's title sponsor.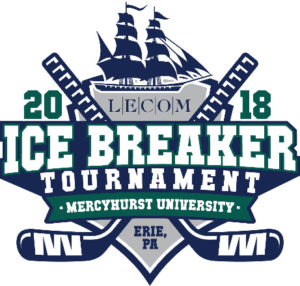 The Erie Sports Commission and Mercyhurst made the successful bid to host the four-team Division I men's tournament, which marks a tough early test of some of the NCAA's top championship contenders. The tournament will feature the University of Notre Dame, Providence College, Miami University of Ohio and Mercyhurst University.
"Erie is home to a robust sports community and certainly Mercyhurst University's Division I Lakers are a big part of that landscape," said Mercyhurst President Michael Victor. "That we are able to host this tournament and provide our city's fans the opportunity to see college hockey at its best, not to mention bring scores of visitors to our city, is absolutely thrilling."
"By awarding its Ice Breaker Tournament to Erie, Pennsylvania, College Hockey Inc., and the Hockey Commissioners Association are proving what we have known to be true: that Erie is a great hockey city," said ESC Executive Director Ron Sertz. "Along with our partners at Mercyhurst, I think we have put together a tournament that fans are really going to enjoy. We are sincerely honored to have been chosen to host this monumental tournament, and proud to have a high-profile sponsor such as LECOM supporting us."
"We are excited to partner with College Hockey Inc., the Hockey Commissioners Association, Mercyhurst University and the Erie Sports Commission to bring the LECOM 2018 Icebreaker to Erie as part of our mission to encourage health and wellness," said John M. Ferretti, D.O, President of LECOM. "There is no better way to highlight wellness than to support the student athletes, who like our students put tremendous effort into achieving their goals."
Mercyhurst was previously invited to play in the 2013 Ice Breaker Tournament when it was hosted by the University of Minnesota. As host in 2018, Mercyhurst joins the ranks of hockey luminaries like the University of Wisconsin, University of Michigan and Boston University, all of which have hosted the tournament during its 20-year history.
"This is truly an honor for us, especially as the first member of the Atlantic Hockey League to host the Ice Breaker," said Mercyhurst men's ice hockey head coach Rick Gotkin. "It is a very prestigious event when you can host Notre Dame, Providence, Miami of Ohio and Mercyhurst, and bring them together in a spectacular facility like the Erie Insurance Arena. It's going to be a great weekend."
"We are very excited to start the 2018-19 men's NCAA hockey season in Erie," said College Hockey Inc. Executive Director Mike Snee. "The Ice Breaker Tournament will be a perfect way to celebrate over 30 years of college hockey at Mercyhurst University. It will also be a unique opportunity for fans in northwestern Pennsylvania to see some intriguing schools that don't make regular visits to Erie."
Tickets to the 2018 Ice Breaker Tournament, presented by LECOM, will be available for purchase Thursday, Nov. 22 through the Erie Insurance Arena box office. Weekend passes can be purchased for $49 and provide access to all four games, and day passes will be available for $29.
For more information on the 2018 Ice Breaker Tournament, presented by LECOM, visit www.hurstathletics.com/icebreaker.