The Lake Erie College of Osteopathic Medicine School of Dental Medicine is excited to welcome 100 new, first-year dental students who began classes on July 14 in Bradenton, Fla.
The Class of 2018 is LECOM's third class of Doctor of Dental Medicine (DMD) students. As part of their arrival on campus, the new students also participated in orientation activities and received their dental scrubs.
One member of the Class of 2018, Shaheen Shafagh, will join his sister, Jasmine Shafagh, at LECOM. Conversations with Jasmine Shafagh, a third-year dental student, helped lead Shaheen Shafagh to pursue the Doctor of Dental Medicine degree at LECOM.
"I advised him LECOM was his best option for dental school, to include the curriculum, faculty, facilities, and clinical opportunities," she said. "Everything is structured so as to maximize our training and preparation, with the goal of providing the highest possible quality of care for patients."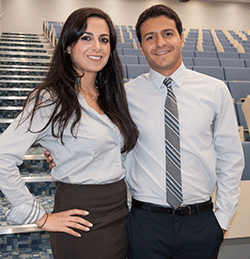 Third-year dental student Jasmine Shafagh welcomes her brother, Shaheen, to the Class of 2018.
More than one-third of the Class of 2018 is from Florida. Shaheen and Jasmine Shafagh are not the only siblings enrolled in the LECOM School of Dental Medicine. Another incoming student, Stephanie Flaksman, will join her brother, Jonathan Flaksman. Jonathan Flaksman is a third-year student and a member of LECOM's inaugural class of dental students.
LECOM's second- and third-year students returned to the classroom in May, and currently are providing primary care dentistry and denture services at the School of Dental Medicine's patient clinics. The care is provided to patients at a reduced cost and is an integral part of the students' clinical training.
In March, students began providing comprehensive dental care to the community, including cleanings, periodontal (gum) treatments, single crowns, simple extractions and dental treatments. Pre-clinical instruction is delivered through the small-group, Problem-Based Learning (PBL) curriculum. Components of the dental curriculum also include faculty directed self-study of gross anatomy; direct comprehensive patient care in the first year; a patient-based simulation-clinic; and the entire fourth year devoted to community-based primary care clinics in DeFuniak Springs, Fla., and Erie, Pa.