LECOM receives six honors at the American Association of Colleges of Osteopathic Medicine annual meeting.
The American Association of Colleges of Osteopathic Medicine (AACOM) presented the 2012 Robert A. Kistner Award to LECOM President John M. Ferretti, DO.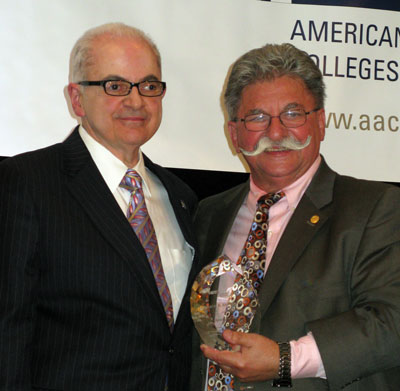 LECOM President and CEO John M. Ferretti, DO receives the Kistner Award from Anthony Silvagni, DO, Chair of the AACOM Board of Deans.
The Robert A. Kistner Award is named for Dr. Kistner, who served at the Chicago College of Osteopathic Medicine for 26 years, and is presented to an individual who has made a significant contribution to osteopathic medical education. As this year's recipient, Dr. Ferretti, President, CEO, and co-founder of the Lake Erie College of Osteopathic Medicine (LECOM), has made substantial contributions to both the education of the next generation of physicians and improving health care for the underserved. Under his leadership, LECOM has become the largest medical college in the United States.In accepting the award, Dr. Ferretti said he was proud to be recognized with an award named in honor of an outstanding medical educator like Dr. Kistner.  While the award may be given for past achievements, Dr. Ferretti says he's looking forward to how much more can be done for medical education through organizations such as AACOM.
AACOM's Society of Osteopathic Medical Educators (SOME) Innovation in Medical Education Awards recognize the year's educational innovations that have resulted in meaningful change at the developer's institution. The 2012 awardees include Richard A. Ortoski, DO, Professor and Chair of Primary Care Education at LECOM, for his development of an Enrichment Module for Humanism in Medicine, and Mark A. W. Andrews, PhD, Professor of Physiology and Director of Examination Management at LECOM, for his development of Assessing Basic Medical Science Knowledge During Preclinical Years, and Beyond.
Dr. Ortoski won the SOME award for developing a curriculum module for the Primary Care Scholars Pathway that was created to encourage, educate, and exemplify humanism in medicine for the medical student. As he stated in a paper for the American College of Osteopathic Family Physicians Fellow Award, "Is it possible to develop the qualities of a more humanistic approach to patient care during the first two years in medical school? I feel "Yes" is the answer."  The module has proven successful as related by the PCSP students who demonstrate how this experience contributed to their growth as compassionate primary care physicians.
Dr. Andrews developed an assessment tool to determine student knowledge at  matriculation, and then to track academic progress throughout their preclinical years, and beyond. A set of progressive multidisciplinary exams assesses basic science knowledge as it relates to medical knowledge.
Dr. Andrews and Christopher C. Keller, PhD, Director of Microbiology/Immunology at LECOM were inducted into the National Academy of Osteopathic Medical Educators (NAOME). This community of outstanding medical educators serves for a five year period, during which the individual serves as a leader and mentor of academic scholarship.
The LECOM Communications and Marketing Department, led by Pierre Bellicini, received a first place award in the Best Advertising-Multimedia category  for the College's new TV ad campaign, Can You Hear the Calling?
Recipients were honored at the AACOM Awards Banquet on Friday, March 30, which was held during the association's Annual Meeting in Washington, DC.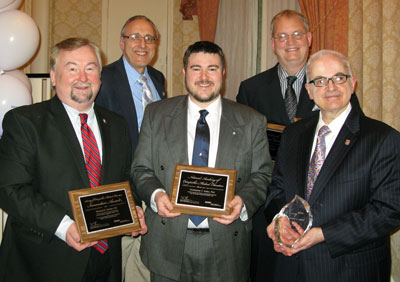 LECOM AACOM Award Winners. First row L-R: Richard Ortoski, DO; Christopher Keller, PhD; John M. Ferreti, DO.  Second row L-R: Pierre Bellicini, Mark Andrews, PhD.