LECOM President Named Person of Year by Erie Notre Dame Club
The Notre Dame Club of Erie recognized the life-time achievements of LECOM's president by honoring  John M. Ferretti, DO as the club's 2013 Person of the Year.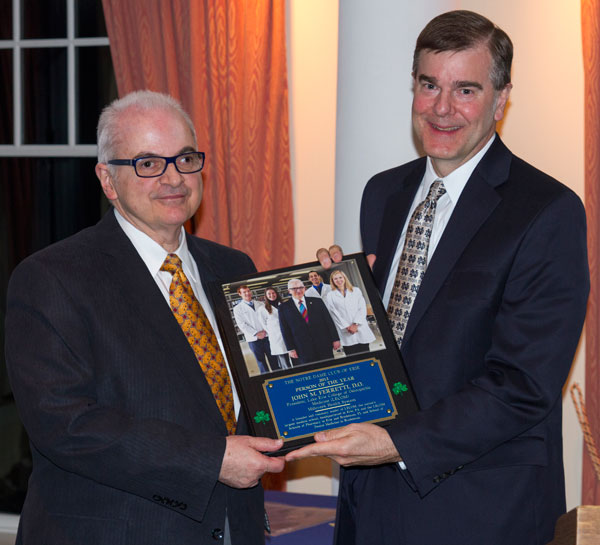 Notre Dame Alumnus Paul Hakel told the crowd gathered at the Erie Kahkwa club that Dr. Ferretti has provided the unfaltering and unmatched leadership necessary to navigate the Lake Erie College of Osteopathic Medicine to the forefront of osteopathic medical education for more than two decades.
He noted that under Dr. Ferretti's unwavering guidance, LECOM has grown to become the largest medical college in the country and has expanded to three campuses in Pennsylvania and Florida. LECOM now prepares not only physicians, but dentists and pharmacists with the inclusion of a school of dental medicine and a school of pharmacy.
Dr. Ferretti accepted the award, not only for himself, but for the accomplishments of the entire LECOM family. "I am proud to accept this award because of LECOM's mission of "purposeful service to the community," he said. "Wherever LECOM lays a cornerstone, its economic and social impact helps the underserved."