LECOM Presents White Coats to Medical and Pharmacy Students
Lake Erie College of Osteopathic Medicine medical and pharmacy students marked their transition from classroom study to clinical education at the Harvest Centre in Bradenton, Fla., as students received their white coats – symbols of trust between doctor and patient, of compassion, and of the purity of a medical professional's purpose.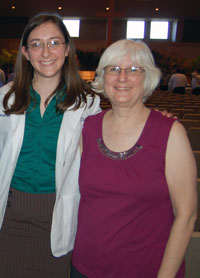 Elizabeth Sedell, LECOM Class of 2015, celebrates wi
th her mother, Christine Kell, Ph.D., LECOM Associate Dean of Pre-Clinical Education.

During two ceremonies, 139 School of Pharmacy students and 194 College of Medicine students in the Class of 2015 pledged to uphold professionalism and competence in the presence of their families, faculty members and peers.
The White Coat Ceremony initiates aspiring health care professionals into a commitment to the highest principles related to the practice of medicine and pharmacy. The White Coat Ceremony marks the student's entrance into the health care professions with all of the traditions, accomplishments, rights and profound responsibilities to humankind.
The students are now ready to embark on the highest quality in medical education as they start work with physicians and pharmacists in clinical courses and practices where they will learn more about how they can partner with their patients on a pathway to better health for their lifetimes.
American Osteopathic Association President Martin S. Levine, DO, encouraged medical students to "think osteopathically" and keynote speaker Eugene Michael DiBetta Jr., DO, LECOM Class of 2009 and a third-year family practice resident at St. Petersburg General Hospital mentioned the significance of wearing the White Coat.
"Wearing the White Coat encompasses everything you have done, everything you are doing and everything you will do that will help others," he said.
Dr. DiBetta was introduced by Silvia M. Ferretti, DO, Provost, Senior Vice President and Dean of Academic Affairs. Robert George, DO, associate dean of academic affairs, led the osteopathic medical students in the Osteopathic Oath of Commitment. Special guests for the ceremony included Larry Wickless, DO, a member of the AOA Board of Trustees.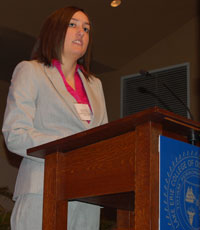 LECOM faculty member and alumni Danielle DeBias, Pharm.D., BCPS gives the keynote address to the LECOM School of Pharmacy Class of 2015.
In the pharmacy ceremony, Danielle DeBias, Pharm.D, BCPS, a 2009 LECOM graduate, gave the keynote address. Dr. DeBias, a LECOM faculty member, touted the professional responsibility and trust that goes with wearing the pharmacists' White Coat.
"Make it your decision today that you will be an advocate for patients and never tire in the quest to prevent harm to patients from adverse medical events," said Dr. DeBias.
Hershey S. Bell, MD, MS, Vice President of Academic Affairs and Dean of the LECOM School of Pharmacy, led the class of 2015 in the Pledge of Professionalism.
The Lake Erie College of Osteopathic Medicine and LECOM School of Pharmacy offer innovative and affordable education in osteopathic medicine, dentistry and pharmacy. From campuses in Erie, Pennsylvania, Greensburg, Pennsylvania and Bradenton, Florida, LECOM provides student-centered pathways to prepare the next generation of healthcare professionals. Prepare yourself for medicine as your life's profession.