LECOM honored with Champions of Healthcare Award
The Lake Erie College of Osteopathic Medicine received the Manatee Chamber of Commerce's 2013 Champions of Healthcare Institution of the Year Award.
LECOM was lauded for its dedication to community service and economic impact in Manatee County. Anthony Ferretti, D.O., Assistant Dean of Clinical Education at LECOM's Bradenton, FL, campus accepted the award in front of a large crowd at the Polo Grill ballroom in Lakewood Ranch. Dr. Ferretti thanked the Chamber for the honor and noted that it is LECOM students that play a major role in making the institution a success.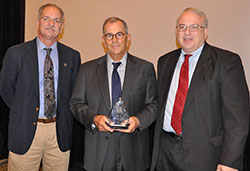 LECOM Assistant Dean of Preclinical Education Mark Coty, Ph.D., Assistant Dean of Clinical Education Anthony Ferretti, D.O. and faculty member Jeffrey Myers, J.D. accept the Champions of Healthcare Award.
In 2011-12, LECOM medical and pharmacy students volunteered over 30,000 hours of service to such programs as: Bridging the Gaps,  mentoring at the Florida Sheriff's Youth Ranch, tobacco cessation, health and wellness clinics, the Food Bank of Manatee County and Operation Prom, just to name a few. LECOM recently donated $10,000 to provide denture services to homeless clients of the Bill Galvano One-Stop Center – Turning Points. LECOM students also provide medical and pharmacy services at the One-Stop clinic.
LECOM made a splash economically, investing $52 million to bring a School of Dental Medicine to the area. The LECOM School of Dental Medicine opened in July 2012 to an inaugural class of 100 students. The direct impact of institutional, employee and student spending is expected to reach approximately $14 million in the Bradenton area, and as much as $35 million through direct and indirect spending statewide.
The Champions of Healthcare Awards recognize the individuals, institutions and programs that have made an extraordinary impact in the Manatee County healthcare community and whose acts reflect dedication to excellence in their area of expertise beyond the scope of their profession.