"The Balancing Act" airing on Lifetime showcases LECOM and highlights the college's impact on osteopathic medicine over the past 30 years
Erie, Pa. – The Lake Erie College of Osteopathic Medicine (LECOM) was the subject of a segment that originally aired October 4th at 7:30 a.m. ET on the "The Balancing Act," a nationally televised morning show airing on Lifetime TV.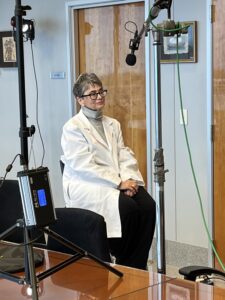 The LECOM segment features the college's provost, senior vice president and dean of academic affairs, Siliva Ferretti, DO, one of the founders of the school and the first female to be dean of an osteopathic medical college.
In addition to Dr. Ferretti, the segment includes interviews with James Lin, DO, a LECOM alum and president of the LECOM Institute for Successful Aging, and Jack Lee, Ph.D, Director of LECOM's Lecture Discussion Pathway and Assistant Director of Physiology.
Hosted by Montel Williams and Olga Villaverde, "The Balancing Act" has been in production for over 20 years.
###
About LECOM: In 2023, the Lake Erie College of Osteopathic Medicine (LECOM) celebrates its 30th anniversary. Founded in 1992, the Lake Erie College of Osteopathic Medicine (LECOM) has grown to become the largest medical school in the country. Enrollment in the College of Osteopathic Medicine, School of Pharmacy, School of Dental Medicine, School of Podiatric Medicine, School of Health Services Administration and Graduate School of Biomedical Sciences has surpassed 4,400 students at campuses in Erie and Greensburg, Pa., Bradenton, Fla., and Elmira, N.Y. LECOM consistently graduates more primary care physicians than any other U.S. medical college while maintaining one of the lowest tuitions of any private medical school in the country. The college is the core of the nation's only osteopathic academic health centers, LECOM Health, a highly innovative, multifaceted health care and education system. Today nearly 16,000 LECOM alumni are providing health care to patients across the U.S.
About The Balancing Act: The Balancing Act® is a morning show created and produced by BrandStar that offers sensible solutions and essential information in a fun, entertaining format; providing resources to help people do life better. The Balancing Act features everything from delicious recipes, style makeovers and dream getaways to parenting tips and the latest news in health and wealth. Tune in to The Balancing Act weekdays at 7:30 a.m. (ET/PT) on Lifetime®, and find all previously aired episodes on TheBalancingAct.com.
About BrandStar: We're matchmakers; connecting People to Brands to Do Life Better. BrandStar has unparalleled experience in creating customized educational content for brands with laser targeted extensive distribution through their multi-channel network ecosystem and methodology. From Original television programming on Lifetime, BrandStar.tv, social media, digital marketing, to media management and PR; BrandStar helps brands connect with the right consumer, at the right time, with the right message, through all the right channels.
For More Information:
Matt Bresee
VP, Marketing & Communications
814-881-6984