For the fifth year in a row, the Lake Erie College of Osteopathic Medicine has been named to the President's Higher Education Community Service Honor Roll, the highest federal recognition a college or university can receive for its commitment to volunteering, service-learning and civic engagement.
"The Honor Roll schools should be proud of their work to elevate the role of service-learning on their campuses," said Eduardo Ochoa, the U.S. Department of Education's assistant secretary for post-secondary education. "Galvanizing their students to become involved in projects that address pressing concerns and enrich their academic experience has a lasting impact – both in the communities in which they work and on their own sense of purpose as citizens of the world. I hope we'll see more and more colleges and universities following their lead."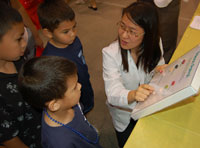 LECOM medical student Min Qi (OMS4) volunteers at the YMCA Healthy Kids Day. LECOM was honored for its commitment to community ser
LECOM medical and pharmacy students in Erie and Greensburg, Pa. and Bradenton, Fla. volunteered over 30,000 community service hours, helping local community organizations during the 2010-11 academic year. Many of these volunteer hours are attributed to LECOM programs such as Bridging the Gaps, which places medical students with local social service and health care agencies helping underserved populations.  Other student run activities provide after school tutoring and mentoring activities with the Erie YMCA and Erie Housing authority and the Florida Sheriffs Youth Ranch.
LECOM continued a partnership with Wellsville USA providing volunteers to provides health living lessons for Erie school children.  LECOM students also participated in Habitat for Humanity home building projects, elementary and middle school reading programs, YMCA Healthy Kids Day, and a health initiative for Greensburg seventh grade students.
The Corporation for National and Community Service, which has administered the Honor Roll since 2006, admitted a total of 642 schools to colleges and universities for their impact on issues from literacy and neighborhood revitalization to supporting at-risk youth. Of that total, 513 were named to the Honor Roll, 110 received the recognition of Honor Roll with distinction, 14 were identified as finalists, and five received the Presidential Award.
Campuses named to this year's Honor Roll reported that nearly one million of their students engaged in service learning and more than 1.6 million participated in other forms of community service, serving a total of more than 105 million hours.