Dental students and faculty will help ease the shortage of physicians in rural Florida
The Lake Erie College of Osteopathic Medicine (LECOM) has announced plans to bring much needed dental health care to the Florida Panhandle community of DeFuniak Springs, where the College has purchased a medical arts building that will become home to a LECOM School of Dental Medicine patient clinic.
Like many parts of Florida, DeFuniak Springs lies in a region lacking sufficient oral health care physicians.  The state ranks third in the nation, behind California and Texas, in its number of communities designated as Dental Health Physician Shortage Areas.  With one-out-of five residents lacking insurance, the burden falls on Florida emergency rooms where treating preventable dental conditions costs more than $88 million.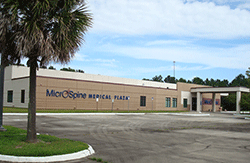 LECOM Has purchased a medical arts building that will be home to a dental clinic in DeFuniak Springs, FL beginning in 2015.
DeFuniak Springs is located between Tallahassee and Pensacola where more than a half-million people live. Its proximity to highly-traveled Interstate-10 will enable the clinic to treat patients from both rural Florida and parts of Alabama.
"There is an overwhelming need for physicians and dentists in more than 30 counties near this location," said Durell Peaden, Jr., M.D., J.D., a member of the LECOM Board of Trustees. "LECOM is bringing high-quality healthcare education and a commitment to attract more dentists to this area."
"The presence of a dental clinic in DeFuniak Springs will improve the health status of the community by providing comprehensive care and general dentistry for all age groups," said Dr. Peaden who served as the area's State Senator for 10 years.
When it opens in 2015, the clinic at 100 Coy Burgess Loop will have 30 dental treatment rooms to serve patients who face challenges in obtaining necessary dental care. Students, under the direct supervision of licensed dental faculty, are expected to see 150 patients per day.
The dental clinic will have a direct economic impact on the local area.  It would effectively provide 24 new jobs, including one full-time dentist and 12 part-time dental faculty members.
Former City of DeFuniak Springs Councilman Mac Work said the dental patient clinic will be a "godsend to health care in the area."
"This is going to have a huge economic impact for us," said Work. "There's a large population of people in this area and surrounding counties who are in need of the services that LECOM is going to provide."
Beginning in the fall of 2015, the first 50 LECOM dental students will move to this community and begin a 48-week primary care clinical rotation. They will provide total comprehensive dental care to qualified patients. Students will work in two shifts at the patient clinic – 7 a.m.-1 p.m. and 1 p.m.-7 p.m.  Each year, a new class of dental students will move to the area to complete their final year of clinical training.
"We see ourselves as an added presence of oral health care for the area, along with being an asset for the local dentists and patients," said Robert Hirsch, D.D.S., dean of the LECOM School of Dental Medicine.
Patients on a fixed income or with Florida medical assistance may qualify for services. Fees at the LECOM School of Dental Medicine clinic are approximately 60 percent less than the customary rates of local area providers.
Another 50 LECOM School of Dental Medicine students per year will complete their fourth-year clinical rotations in Erie, Pa. at a new clinic opening near the main campus.
The LECOM School of Dental Medicine opened in July 2012 to an inaugural class of 100 students. First-year dental students are already providing patient care at the school's clinic at Lakewood Ranch in Bradenton.