Students awarded Doctor of Osteopathic Medicine, Doctor of Pharmacy and Master's degrees
June 1, Erie, Pa. – Nearly 550 students were awarded their degrees during the Lake Erie College of Osteopathic Medicine's (LECOM) 18th Commencement ceremony, held at Erie Insurance Arena on a sun-drenched afternoon.
The Commencement included 371 students receiving the Doctor of Osteopathic Medicine (DO) degree, including 104 from LECOM's campus at Seton Hill University in Greensburg, Pa., 140 receiving the Doctor of Pharmacy (PharmD) degree, 33 receiving the Master of Science in Medical Education degree, and three receiving the Master of Science in Biomedical Sciences degree.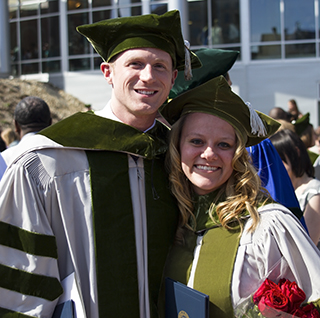 Kevin Hansen and Cassie Groner were two of the 140 Doctor of Pharmacy graduates at LECOM's Commencement ceremony in Erie.
While news reports often chronicle "brain drain" and the loss of graduates to other areas of the country, LECOM is promoting brain gain in its host states. Nearly 25 percent of 2014 DO graduates from LECOM's campuses in Erie and at Seton Hill will complete post-graduate residency and internship training in Pennsylvania. Shamus C. Reimold is one of many members of LECOM's Class of 2014 who will remain in the Keystone State.
Erie has become like a second home to Reimold, a native of Greenville, Pa., who graduated from Gannon University with a bachelor's degree in biology. He is excited to begin a residency in ophthalmology at Millcreek Community Hospital (MCH), a teaching hospital for LECOM. "My friends and family are in northwestern Pennsylvania," he said. "I didn't want to go anywhere else. During my rotations at MCH, everyone treated me well and I learned a lot. I'm very happy and comfortable here. "
Caitlin C. Feth, a DO graduate from LECOM-Erie, will begin a residency in family medicine at Washington Hospital in Washington, Pa., about 30 miles from where she was born and raised in Pittsburgh. "It was my first choice for residency," Feth said. "I've always loved the area and hope to practice there someday in primary care."
Nearly 32 percent of LECOM-Bradenton's 2014 DO graduates, including Michael A. Venezia, soon will begin residency and internship training in Florida. "Staying in Florida for residency was an easy choice," said Venezia, who will specialize in orthopedic surgery at Largo Medical Center in Largo, Fla. "I look forward to giving back to the community that I care so much about."
Highlighting LECOM's 2014 Commencement was the graduation in Erie of the inaugural class of DO students from the College's Accelerated Physician Assistant Pathway (APAP), the only program in the country designed specifically for PAs who want to practice as osteopathic physicians.
Lisa Lanning, one member of the APAP class, left a well-paying career as a physician assistant to enroll in the program. In addition to earning the DO degree, she has been awarded $120,000 through the National Health Service Corps (NHSC) Students to Service Loan Repayment Program (S2S LRP).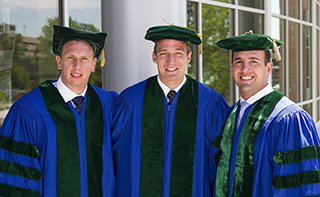 The 371 Doctor of Osteopathic Medicine graduates from LECOM's ceremony in Erie included
Frank Kowalkowski, Joshua Kessler, and Raymond Melder.
"I'm very grateful for the education I've received at LECOM and to have been chosen for the Loan Repayment Program," added Lanning, who will specialize in family medicine at McLeod Regional Medical Center in Florence, S.C. "I'm excited for the challenges that lie ahead."
LECOM's Class of 2014 includes students from across the country and with diverse backgrounds. Lindsay E. Cassey of Elk Grove, Calif., earned the DO degree from LECOM at Seton Hill. Cassey also is thankful for the education and training she received through LECOM's Problem-Based Learning (PBL) Pathway, which uses patient cases to promote critical thinking and clinical reasoning skills. "Medical school has been challenging, but I've had a great experience," Cassey said.
Cassey will begin a residency in family medicine at Valley Consortium for Medical Education in Modesto, Calif. As a physician who intends to focus her care on uninsured and under-insured patients, she is the embodiment of LECOM's mission.
Another LECOM at Seton Hill graduate, Kai Schlingmann, also said LECOM has prepared him well. "LECOM empowered me to become a lifelong learner," said Schlingmann, who represented the College as one of only two Student Directors on the board of the American Osteopathic Foundation (AOF). Schlingmann, who concurrently served as the AOF Student Representative for AACOM's Council of Osteopathic Student Government Presidents (COSGP),is excited to embrace LECOM's commitment to empathetic, patient-centered care.
Opportunities also abound for members of the LECOM School of Pharmacy's Class of 2014. Jordan Daniel of Martinsville, Ind., a PharmD graduate at LECOM-Bradenton, is the recipient of the inaugural CVS Caremark Pharmacy Corporate Fellowship in Quality Assurance and Patient Safety. The fellowship allows pharmacist practitioners to gain a more thorough understanding of medication-use safety and industry quality measures as they relate to retail pharmacy.
"I was very fortunate to be chosen for this fellowship, but it never would have been possible without LECOM and the faculty and advisors who've cared deeply about my goals and encouraged me to accomplish them," Danie lsaid.
Thomas Roland, a PharmD graduate from LECOM's campus in Erie, has accepted a position as an Executive Pharmacist with Target Pharmacy in Jacksonville, Fla. He will serve as an assistant marshal during Commencement. "Over the last three years, it has been my great honor to learn alongside future leaders in the pharmacy profession," Roland said. "I'm proud to have the opportunity to represent our class at the culmination of our academic careers."
LECOM's campus in Bradenton, Fla., will host its Commencement on Sunday, June 8 at the Bradenton Area Convention Center. At LECOM-Bradenton's ceremony, 155 students will receive the DO degree, 120 will receive the PharmD degree, and one will receive a Master's in Medical Education degree. In total, LECOM's Class of 2014 includes more than 820 graduates.