LECOM Celebrates National Osteopathic Medicine Week 2014
NOM Week increases awareness of DOs as well as their commitment and professionalism
The Lake Erie College of Osteopathic Medicine (LECOM) and its students are joining with their local communities in celebrating National Osteopathic Medicine Week, April 13-19.
National Osteopathic Medicine (NOM) Week is designed to increase awareness of osteopathic medicine and to honor osteopathic physicians for their commitment and professionalism, according to the American Osteopathic Association (AOA).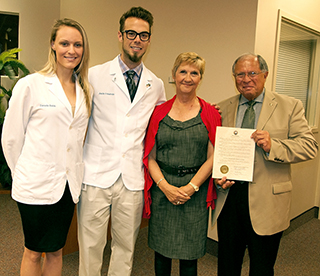 Manatee (Fla.) County Commissioner Vanessa Baugh presented a proclamation to students Danielle Babb and Justin Frisenda and to Robert George, DO, Associate Dean of Academic Affairs.
In Erie, Mayor Joe Sinnott presented a proclamation to representatives from LECOM's Student Government Association (SGA) and Student Osteopathic Medical Association (SOMA). The proclamation recognized LECOM's status as the nation's largest medical school, its inclusion on the President's Higher Education Community Service Honor Roll, and its commitment to bringing total healthcare to the community and to training the next generation of osteopathic physicians, pharmacists, and dentists. The proclamation also acknowledged LECOM as the nation's only osteopathic academic health center.
Students at LECOM's campuses in Bradenton, Fla., and in Greensburg, Pa., were recognized with similar proclamations.
To kick off National Osteopathic Medicine Week in Erie, medical and pharmacy students hosted their annual Healthy Living Fair at the Millcreek Mall. More than 70 students representing 15 clubs and organizations provided information on health-related topics, including women's health, travel safety, heart health, skin safety, and poison prevention. Free blood pressure and bone density screenings were offered, and students gave demonstrations of osteopathic manipulative medicine (OMM).
As part of LECOM's celebration of NOM Week, John Ferretti, DO, President and CEO of LECOM, wrote a Guest Voice column in the Erie Times-News on the tremendous value and lifestyle benefits associated with the osteopathic philosophy. He noted that NOM Week "recognizes the contributions of osteopathic physicians and honors their dedication to improving the health of their communities through education and awareness-based efforts, as well as by delivering quality health services."
NOM Week events in Erie also included a free showing, for students and faculty, of Mysteries of the Unseen World, an educational, National Geographic movie on phenomena not visible to the naked eye. The movie takes audiences into earthly worlds secreted away in different dimensions of time and scale. Advancements like high-speed and time-lapse photography, electron microscopy, and nanotechnology allow audiences a glimpse at things, events, creatures, and processes they never knew existed.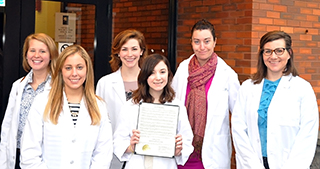 SGA officers at LECOM-Seton Hill show off their NOM Week proclamation. L-r: Caroline Rekuc, Corinne Smith, Katherine Casper, Brittany Koehler, Ashley Fritz, and Joelle Potts.
Students at LECOM's campus in Bradenton, Fla., kicked off NOM Week by volunteering at the YMCA's Healthy Kids Day. Students from numerous clubs and organizations, such as International Medicine, Pediatrics, and the American College of Osteopathic Family Physicians (ACOFP), brought healthy snacks for the participating children and took part in games and activities with them.
In addition, LECOM-Bradenton hosted a lecture for all students, including pharmacy and dentistry, on osteopathic medicine. Students also had the opportunity to send thank-you cards to the faculty and staff members who have helped them on their journey toward becoming physicians.
---
More about Doctors of Osteopathic Medicine (DOs)
Osteopathic physicians (DOs) are fully licensed to prescribe medication and practice in all specialty areas, including family practice, surgery and psychiatry. Currently, there are more than 78,000 DOs and 19,000 osteopathic medical students in the United States.
DOs are trained to consider the health of the whole person, and to use their hands to help diagnose and treat patients. They focus on preventive health care by teaching their patients to embrace attitudes and lifestyles that don't just fight illness but also help prevent it.