The Lake Erie College of Osteopathic Medicine (LECOM) School of Pharmacy and the State College of Florida (SCF) have partnered to facilitate the admission of SCF graduates into the LECOM Doctor of Pharmacy program.
The articulation agreement establishing the SCF-LECOM School of Pharmacy Early Acceptance Program was signed at SCF's Bradenton campus. Participating in the signing ceremony for LECOM were Vice President of Academic Affairs and Dean of the School of Pharmacy Hershey S. Bell, MD, MS; Vice President of Medical Education Chet Evans, DPM; and Associate Dean for Bradenton Operations Sunil Jambhekar, Ph.D.. Participating in the signing ceremony for SCF were President Lars A. Hafner, Ph.D; Board Vice Chair Craig A. Trigueiro, MD; and SCF Professor of Natural Science and SCF/LECOM Program Director Anthony Gambino, Ph.D.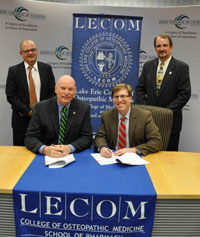 "The LECOM School of Pharmacy is pleased to partner with the State College of Florida," said Dr. Bell. "This is a great opportunity for SCF students who wish to pursue a pharmacy degree to do so locally."
"The development of this type of academic partnership is consistent with both institutions in fulfilling community and regional health practitioner needs," said Dr. Evans.
Previously, The University of Florida and Florida Agricultural and Mechanical University have been the State University System options available to SCF graduates who qualified to enter a school of pharmacy program.
Employment in the field of pharmacy is projected to grow by 23 percent between 2008 and 2016, or 2.92 percent average growth per year, which is much faster than the average for all occupations projected by the Florida Agency for Workforce Innovation, according to the Tampa Bay Business Journal.
"We are fortunate to have the opportunity to work locally with an educational partner that has a respected national presence and vision," Dr. Hafner said.
The Early Acceptance Program calls for LECOM to reserve five slots for SCF students who complete an undergraduate (associate) degree, including or in addition to required higher-level math and science courses.
SCF and LECOM will jointly advise and monitor the academic progress of qualified, interested students to assure they can demonstrate they are capable of handling the rigorous course load of the demanding program. The program will be open to current SCF students as well as current high school students enrolling at SCF.
While a dedicated student who enrolls at SCF with specific math and science courses already completed could graduate in two years with the 60-hour Associate in Arts degree, most students are expected to opt for a "three-plus-four" year track – three years at SCF to accommodate additional math and science courses, plus four years at LECOM's School of Pharmacy.
The program will begin in the fall of 2012.
The Lake Erie College of Osteopathic Medicine a offers innovative and affordable education in osteopathic medicine, dentistry and pharmacy. From campuses in Erie, Pennsylvania, Greensburg, Pennsylvania and Bradenton, Florida, LECOM provides student-centered pathways to prepare the next generation of healthcare professionals.