LECOM Announces Plans For Dental Group Practices at Erie Campus.
Transformation of former LORD building will allow students to gain clinical experience and will enhance access to care
Erie, PA, April 8, 2014 — A lot has been happening in the former LORD Technology Park since the Lake Erie College of Osteopathic Medicine (LECOM) purchased the property just over two years ago. Most of the LORD employees have moved out and contractors for LECOM have moved into the north building.
Inside the building, construction is underway for the School of Dental Medicine clinical offices on the recently expanded W. Grandview Boulevard campus. LECOM is a year away from providing dental care for Erie area residents and for the Florida Panhandle city of DeFuniak Springs, where a clinic is also under construction.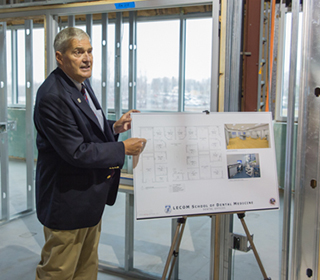 Robert Hirsch, DDS, Dean of the School of Dental Medicine, said the Dental Group Practices will allow students to provide comprehensive care.
"This is an exciting time for the dental profession, for the Erie community, and for LECOM," said Robert Hirsch, DDS, Dean of the LECOM School of Dental Medicine. "Our goal is to provide our students with extensive learning experiences so that upon graduation, they will be prepared to practice in areas where the need for oral health care is the greatest."
The Erie general contractor is Building Systems, Inc. (BSI), which will employ 60 local workers to complete the project in time for students to begin practicing in May of 2015. BSI is working with Church & Murdock Electric, Inc., Rabe Environmental Systems, Inc. and George H. Althof (plumbing), Inc.
These workers have begun building a 30-chair office where 50 dental students will provide affordable, oral health care for patients who find it difficult to receive dental treatments elsewhere. Framing is in place where three office pods will house 10 treatment rooms equipped with the latest dental equipment.
After purchasing 28 acres with multiple buildings from LORD Corporation, the College now is spending another $5 million for construction and will invest $1.4 million in state-of-the-art dental equipment that includes digital x-ray machines and electronic medical records.
The dental offices will have a significant economic impact on Erie with 50 dental students spending an entire year in Erie for their training. It is estimated that each student will spend about $28,000 for housing, transportation, food and other expenses.
The dental school will have 31 employees including general and specialty dentists, a hygienist and office staff. The office will house a primary care physician and at least three support staff members.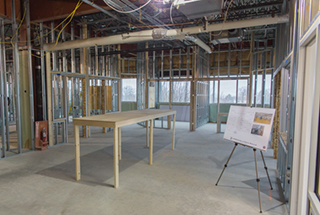 Framing is in place for treatment rooms that will include state-of-the-art equipment and technology. LECOM is investing nearly $6.5 million in the Erie Group Practices.
In addition to its economic impact, the clinic will also have a bearing on the oral health of local residents. LECOM has the only dental school in the country where students practice at community-based dental offices, owned and operated by the institution.  By the end of their third year, LECOM dental students will have received the equivalent clinical training of students having attended four years at most other schools. LECOM students will devote their entire fourth year to treating individuals who may otherwise go without care.
The states of Pennsylvania and Florida do poorly in delivering dental care for lower-income and uninsured families. The US Department and Health and Human Services (USHHS) reports that 57% of Medicaid-enrolled children in Pennsylvania lack dental care and 10% of the state's population live in a dental shortage area such as Erie County. USHHS ranks Florida eighth in the nation for the percent of the population who do not receive dental care because of dentist shortages. That same report shows that 76% of Florida children on Medicaid do not receive dental care, which is the highest percentage in the nation.
The clinics will make a difference in children's health as they grow older.  It has been shown that early dental health treatment carries over into better adult health, including lower cardiac disease risk.
More about the Lake Erie College of Osteopathic Medicine
LECOM is the nation's largest medical college and with Millcreek Community Hospital and the Clinical Practices of Erie forms the only osteopathic Academic Health Center in the United States. LECOM is at the core of this highly innovative medical education system and strives to add to the quality of life of its neighbors by bringing total health care to the community. LECOM is preparing the next generation of physicians, dentists and pharmacists at campuses in Erie and Greensburg, Pa. and in Bradenton, Fla.