LECOM Announces Opening of Dental Group Practices
Primary Care Dentistry Now Available to the Public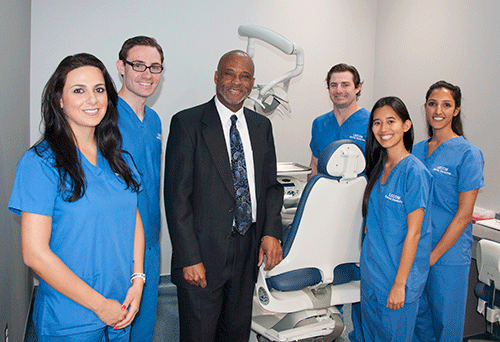 Jasmine Shafagh, Timothy Speer, Assistant Dean of Clinical Education Francis Curd, DDS, Daulton Roberts, Stephanie Nguyen and Neha Chakravarti are ready to treat patients at the LECOM School of Dental Medicine group practices.
Bradenton, FL– The Lake Erie College of Osteopathic Medicine continues its mission of providing quality clinical care and community service with the opening of the LECOM School of Dental Medicine Group Practices. Dental students have begun seeing patients at the dental offices at 4800 Lakewood Ranch Boulevard.
"We are now in our second year preparing the next generation of dentists and the first class is now ready to increase their clinical training," said Robert Hirsch, D.D.S., dean of the dental school.  "They have moved into this group practice area where they can see patients four days each week."
Each of the ten group practices, named for benefactors who have contributed to the LECOM Student Scholarship Fund, are equipped and work like a modern dental office.  There are ten treatment rooms in each group with ten students per group.  Each student will treat at least two patients per day and with 100 students, about 200 people will be able to receive care each day.
At the clinic, the students can provide comprehensive dental care services; these include cleanings, periodontal gum treatments, crowns, root canal therapy, extractions, dental restorations and full and partial dental prosthesis treatments.  The students are learning to use the latest diagnostic tools such as digital X-rays for full mouth, individual teeth and 3-D full head scanning.  They are keeping track of their patient records with state-of-the-art electronic medical record software.
LECOM faculty dentists supervise each patient case as the students work through their treatment procedures.  There also are receptionists, hygienists, technicians and clerical staff who will work with the student dentists and their patients.
"Our goal is to provide our students with adequate learning opportunities so that upon graduation they will be prepared to practice successfully in areas where the need for oral health care is greatest," said Dr. Hirsch.
The United States Department of Health and Human Services ranks Florida eighth in the nation for the percent of the population who do not receive proper dental care because of dentist shortages.  That report shows that 76% of Florida children on Medicaid do not receive dental care, which is the highest percentage in the nation.
The group practices currently are open four days per week from 9 a.m.-5 p.m and will extend hours to five days per week in late May. Patients should keep in mind that this is a teaching institution and care is provided in a manner that gives priority to education and quality of care.  Patients may contact the office for appointments, (941) 405-1600. Cases will be selected based on the teaching needs of the clinical education program.