The Lake Erie College of Osteopathic Medicine (LECOM) and Highmark Inc. today announced a scholarship program aimed at increasing the supply and retention of physicians in rural areas of Pennsylvania. The five-year, $500,000 initiative will be funded by Highmark and support LECOM students in their four years of medical school.
"The shortage of physicians in rural areas of the state has serious implications for the access to quality care and health of people living in these communities," said William Winkenwerder Jr., M.D., Highmark's president and CEO. "This scholarship program is directly aligned with Highmark's 75-year vision of providing access to affordable, quality health care and will encourage and support LECOM students to practice medicine in areas where they are most needed."
Pennsylvania is ranked as having the third largest rural population in the country. Many physicians currently practicing in rural communities throughout the Commonwealth are 55 years and older, and they are planning to retire in the next few years. Replacement of primary care and specialty physicians is critical to continue providing health care to rural populations.
"LECOM has developed innovative and affordable medical education that has produced outstanding primary care physicians," said John M. Ferretti, D.O., LECOM president and CEO. "We have consistently ranked among the top medical schools for graduating primary care physicians who remain in the state.  This scholarship provides a great incentive to attract students with a commitment to patient care in underserved areas."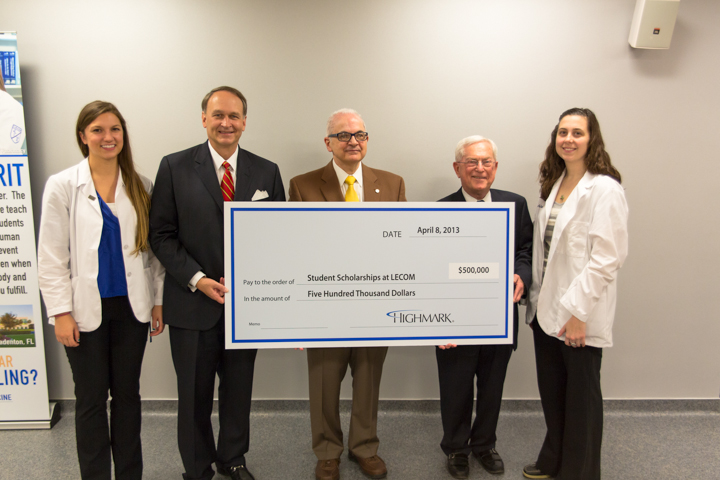 Pictured L-R: Catherine Conway (OMS1), Highmark President/CEO, William Winkenwerder Jr., MD, LECOM President/CEO, John M. Ferretti, DO, LECOM Chairman of the Board of Trustees, Michael J. Visnosky, Esq., Caitlin Feth (OMS2)
LECOM students Caitlin Feth (OMS2) and Cahterine Conway, (OMS2) spoke about the debt they face paying for medical school.  While student doctor Feth is in the 3-year, Primary Care Scholars Pathway, she will amass a debto of at least $150,000 and Conway, who is in the four-year Lecture Discussion Pathway, will owe up to $200,000.
Both are committed to staying in Pennsylvania and practicing primary care. "My interest in medicine goes back as far as I can remember, but my real interest in Primary Care began when I shadowed my uncle, an Osteopathic family physician, during high school," Feth told the crowd gathered for the announcement. "Over those four summers I grew to love the variety, quality, and continuity of care that family medicine brings."
Like Feth, Conway grew up in Pittsburgh and plans to practice there as well. "With Pennsylvania's aging population and the Affordable Health Care Act taking effect, it is in the commonwealth's and the nations best interest that more people go into primary care<" she said. "Highmark's generosity will help to see that happen."
From academic year 2013-2014 through 2018, the competitive program will award five, $20,000 scholarships annually to qualified students throughout their four years of medical training for a total of $100,000 in scholarships each year. The LECOM students will be required to practice medicine at a Highmark-approved site located in a designated area of need for each year they received their scholarship funding.
The scholarship selection process will be a joint effort between LECOM and Highmark. Scholarship students will be selected from criteria ranging from academic performance to demonstrated commitment to a career in primary or specialty care working in an underserved area.
---
About LECOM
The Lake Erie College of Osteopathic Medicine offers innovative and affordable education in osteopathic medicine, dentistry and pharmacy at campuses in Erie, Pennsylvania, Greensburg, Pennsylvania and Bradenton, Florida. LECOM is a private, non-profit educational institution. The college is part of the Millcreek Health System; along with Millcreek Community Hospital, Millcreek Geriatric Care and Education Center and physician practices managed by Medical Associates of Erie at 14 locations, including the John M. and Silvia Ferretti Medical Fitness and Wellness Center.
LECOM believes that when mind, body and spirit come together the impossible becomes suddenly possible. It is a calling each and every one of our students embodies to become the best they can be; to prevent disease and treat it; to give hope. Can you hear the calling?
---
About Highmark Inc.
Highmark Inc. is a national diversified health and wellness company based in Pittsburgh that serves 34.4 million people across the United States through its businesses in health insurance, dental insurance, vision care, information technology and integrated health care delivery. The company, which has more than 20,000 employees, is among the largest health insurers in the U.S. and the fourth-largest Blue Cross and Blue Shield-affiliated company. Highmark operates health insurance plans in Pennsylvania, Delaware and West Virginia that serve 4.9 million members.
The company also offers health and wellness products to clients with employees throughout the country and is a recognized leader in reinsurance. In addition, Highmark operates more than 600 optical retail stores (Visionworks) and four U.S.-based eyewear manufacturing facilities. Highmark is an independent licensee of the Blue Cross and Blue Shield Association, an association of independent Blue Cross and Blue Shield companies. For more information, visit www.highmark.com.