Institute for Successful Aging Hosts Grand Opening for Rehabilitation Unit
Tuesday, 10 September 2013
The LECOM Institute for Successful Aging, a national leader in providing clinical services, education, and research in geriatric medicine, recently celebrated the grand opening of a new Rehabilitation Unit.
The unit is comprised of 14 beds and training areas, including a kitchen, bedroom, bathroom, activity room and therapy gyms and will allow patients to take part in a comprehensive rehab. Patients will be treated by an inter-disciplinary team that includes the attending rehabilitation and consulting physicians as well as clinical pharmacists, physical and occupational therapists, speech pathologists, respiratory therapists, nurses, nutritionists and case managers.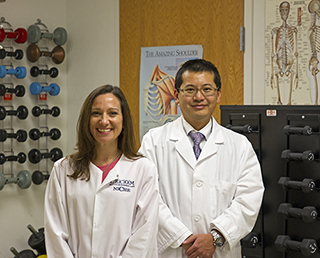 Julie Eppolito, R.N., Director of Geriatric Nursing, and James Lin, D.O., Director of the Institute for Successful Aging, say therapy gyms are just one way the new Rehabilitation Unit will offer a comprehensive approach to treatment.
"The program we've developed for patients can make a significant difference in how quickly they're able to return home following an illness or injury," said James Lin, D.O., Vice President of Senior Services and Adult Living and Director of the LECOM Institute for Successful Aging. "Our goal is to help them return to active, independent lifestyles through an individualized plan that takes them through the continuum of care."
The Grand Opening was held in conjunction with National Rehabilitation Awareness Week, which has been celebrated nationally since 1976. The event, observed during the third week of September, is designed to promote the importance of rehabilitation, highlight the capabilities of those with disabilities, and recognize the professionals who serve them.
---
More about the LECOM Institute for Successful Aging
Programs offered by the institute include memory assessment, geriatric assessment, balance disorders and falls prevention, mental health, and osteoporosis and geriatric fracture prevention. Specialists work collaboratively with primary care physicians, patients and families to help foster independence and shared decision-making in determining the most appropriate plan of care.
Earlier this year, the Institute for Successful Aging and Millcreek Community Hospital (MCH) were accorded NICHE (Nurses Improving Care for Healthsystem Elders) certification. The institute and the hospital were the first local health care organizations to be nationally recognized for their commitment to providing the highest levels of patient-centered care for older adults.