A partnership was announced on February 7, 2012 in the LECOM atrium between General McLane school district and area businesses and colleges to form the General McLane Academy of Arts & Engineering.
The General McLane School District (GMSD) has devoted a significant amount of time developing the Academy of Arts & Engineering, an enhancement to its mainline curriculum that is tailored for students, grades 10-12, with science, technology, engineering or math (STEM) related careers in mind. The curriculum is designed to excel in the increasingly competitive educational marketplace and offer training in the areas of Engineering and Medical Technology in 2012, and expand to include Arts & Humanities in 2013.
Out of roughly 2.5 million high school graduates each year, about 25% or 625,000 students choose to pursue a career that centers on STEM. At General McLane, that percentage is even higher, averaging nearly 33% of its graduates per year.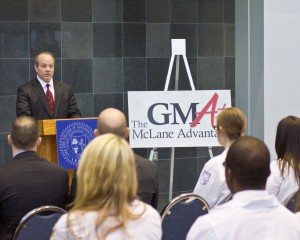 Rick Scaletta, GMSD Superintendent announces the new program.
"We saw an opportunity to benefit our students," said Rick Scaletta, GMSD superintendent, "In many cases, students leave high school with an idea of what they'd like to pursue; but, once they actually begin coursework, they find that they don't like it or it's not what they expected and they change majors. That usually leads to [an] extra year of college."
In order to facilitate this undertaking, GMSD has partnered with a number of local entities including Edinboro University, Gannon University, Penn State Behrend, The Lake Erie College of Osteopathic Medicine (LECOM), UPMC Hamot, Millcreek Community Hospital, Great Lakes Automation, Great Lakes Case and Cabinet, Deiss & Halmi Engineering, C&J Industries, H&H Machined Products and NuTech.
"These partnerships are a critical aspect for the success of the program," said Scaletta. "The knowledge base and opportunities that become available working with the universities, the engineering firms, and LECOM further augment the program."
Daniel Mennow, principal of General McLane HS, says he's "excited about the opportunity for our students."
Mennow says the academy would provide "engaging classes tailored to students interests" and anticipates the schools partnerships "adding to the accuracy and rigor of the academy, ultimately allowing students to be better prepared for their futures."
Several high school faculty members visited LECOM in the fall to discuss the academy concept. Following that meeting, Randy Kulesza, Ph.D., associate professor of anatomy at LECOM, traveled to Edinboro to teach the high school students about the brain and lungs.
"We at LECOM feel it is extremely important to develop partnerships with schools who share our vision of excellence and innovation in education," said Christine Kell, Ph.D., associate dean of preclinical education at LECOM. "By pairing with LECOM and our partners such as Edinboro University, Gannon University, and Penn State Behrend, we will have an opportunity to encourage students who have an interest in health-related fields, and other areas of science, technology, math and engineering to follow their dream."
General McLane faculty have participated in a number of visits to university and business partners to develop "Quadrant D learning" which is learning that requires higher order thinking skills applied to real world problems that are predictable and unpredictable. These visits have been essential for high school faculty to develop a better understanding of careers in medicine and engineering.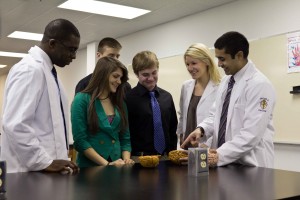 Habeeb Bello, OMS2, Kristi Braunclich, OMS1 and Nilam Patel, OMS2 show General McLane high school students Allison Schultz, Evan Dillen and Logan Gatenby different sections of the human brain.
Among the visits was a trip to the LECOM John M. and Silvia Ferretti Medical Fitness and Wellness Center where center director Tyler Travis introduced the teachers to the fitness training and wellness programs offered at the center. Additionally, a group of GMHS students visited the LECOM Anatomy Lab for a hands-on, live-learning opportunity.
The Academy will be available to all GMSD students as well as students outside the district at a tuition cost of $3600 for 2012-2013. For more information, parents can visit McLaneAdvantage.org.