Anthony Ferretti, DO, assistant dean of clinical education at LECOM's Bradenton campus, received the Florida Osteopathic Medical Association's highest honor during FOMA's annual conference in Weston, Fla.
During FOMA's President's Reception and Dinner, Dr. Ferretti received the Distinguished Service Award, given to an individual "in recognition of outstanding accomplishments in scientific, professional, osteopathic education, or service to the osteopathic profession at a state or national level."
A graduate of the Philadelphia College of Osteopathic Medicine, Dr. Ferretti has chosen to take on the role of educator, sharing his wealth of knowledge as an osteopathic physician and surgeon.
Dr. Ferretti is a commissioned officer in the U.S. Army Reserves and has served the country as a member of the U.S. Army medical team during Operation Desert Shield/Desert Storm and Operation Iraqi Freedom.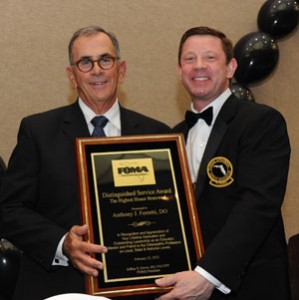 LECOM assistant dean of clinical education, Anthony Ferretti, DO receives the Distinguished Service Award from FOMA President Jeffrey Grove, DO.
LECOM students and alumni also made an impact during the conference.
Brian Ware (OMS3) earned the top award – a $5,000 scholarship from the Osteopathic and Podiatric Foundation of Florida Hospital East Orlando – presented at the conference luncheon at the Hyatt Regency Bonaventure. Ware is completing his core clinical rotations at the Hospital.
The Foundation Award is given to students who attend osteopathic medical schools in Florida "in recognition of exemplary academic achievement and leadership." The Florida Hospital East Orlando scholarship committee reviewed his resume, two letters of recommendation, a personal statement, and transcripts before choosing him as one of the top osteopathic medical students in Florida.
Second-year medical student Sterling Haring received the FOMA Student Award for his "leadership dedication, passion and commitment to the osteopathic profession." He was also honored with the Seltzer Legislative Healthcare Award in addition to garnering second place in FOMA's annual Research Poster Competition in the Student Experimental Research category.
Michael Venezia (OMS2) received the Marcelino Oliva, DO, Memorial Scholarship and FOMA Student awards, while Rachel Crosby (OMS3) earned the Advocates for FOMA (AFOMA) Award.
Other LECOM poster presenters included: William Bianchi (OMS1), James Toldi (OMS4), Matthew Bowser, DO ('10); Emily Essert, DO ('10); Angelina Deak, DO ('09); Olga Globosky, DO ('09); and Matthew Mason, DO ('09).
LECOM faculty members Robert Fernandez, DO; Cheryl Sellers, DO; and Teresa Pettersen, MD served as poster competition judges.
---
The Lake Erie College of Osteopathic Medicine offers innovative and affordable education in osteopathic medicine, dentistry and pharmacy. From campuses in Erie, Pennsylvania, Greensburg, Pennsylvania and Bradenton, Florida, LECOM believes that when mind, body and spirit come together the impossible becomes suddenly possible. It is a calling each and every one of our students embodies to become the best they can be. To prevent disease and treat it. To give hope. Can you hear the calling?