LECOM's Interprofessional Research Initiative2016 was held on Oct. 29, with more than 70 participating submissions from resident physicians, faculty and students.
The presentations involved posters and lectures on the research done by LECOM students and resident physicians for Erie-area hospitals. The Research Day allowed those participating to showcase their work, as well as provide an educational experience for their co-contributors.
The judging was split between t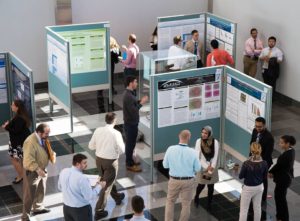 wo groups – Student Presentations and Resident Physician Presentations – and was divided between Lecture Session and Poster Session.
The top prize for the student lecture session went to Ryan Zimmerman, OMSI, for his study titled, "Repeated prenatal VPA exposure results in marked deficits in development of sensory systems and the Superior Olivary Complex." Zimmerman's study was done with Randy Kulesza, Ph.D., LECOM's Director of Anatomy.
First-year medical student Ami B. Shah, OSMI, won the second prize in the lecture session for her research titled, "Elevated androstenedione in young adult but not pubertal prenatally androgenized rats." Shah completed her research with Diana L. Speelman, Ph.D., and Isaac Nivar, OMSII.
Third place was awarded to Cody R. Kilar, OMSII, for his study titled, "Activation of the β-common receptor by erythropoietin impairs acetylcholine mediated vasodilation in mouse mesenteric arterioles." His research was completed with Yanpeng Diao, M.D.; Larysa Sautina; Sivakumar Sekharan, Ph.D.; Shahar Keinan, Ph.D.; Kirk P. Conrad, M.D.; Rajesh Mohandas, M.D.; and Mark S. Segal, M.D.
The first prize for the poster session went to second-year medical student Scott Schmalzried, OMSII, for his study titled, "The Effect of Essential Cinnamon Oils and Cinnamaldehyde on Growth Inhibition of Pseudomonas aeruginosa and Staphylococcus aureus." He completed his research with Christopher Keller, Ph.D., Director of Primary Care Scholars Pathway at LECOM, and Nancy Carty, Ph.D., Assistant Professor of Microbiology at LECOM.
Second place was awarded to fourth-year medical student Philip Femano, OMSIV, for his research titled, "A rare case of severe idiopathic Guyon canal syndrome treated with a Guyon canal decompression and supercharged end-to-side anterior interosseus to ulnar nerve transfer." Femano completed his research with Michael Rivlin, D.O.
The poster session's third prize went to third-year medical student Vishesha Patel, OSMIII, for her study titled, "Regular yoga improves hormone health in women with polycystic ovary syndrome."
The physicians' lecture session first prize went to Gennaro Romanello, D.O., for his study titled, "Common Misconceptions in the Recognition and Treatment of Anaphylaxis in Community Hospital Based Medical Professionals."
Second prize went to Steven Ward, D.O., for his study, "The Use and Effectiveness of Texting in Healthcare: A Survey of Medical Professionals."
Andrew J. Chin, D.O., won the third prize in the lecture session for his research, "The Effectiveness and Tolerance of Rib Raising in Hospitalized Patients." Dr. Chin's research was completed with Michael P. Rowane, D.O., Associate Dean of Clinical Education at LECOM.
In the poster session, first place went to Bhavesh Joshi, D.O., for his study "Osteochondritis Dissecans in the NBA." Dr. Joshi collaborated with Michael Knoll, OMSII, and Patrick Leary, D.O., Director of the LECOM Orthopedic Sports and Medicine Team.
Second prize went to Matthew L. Hintz, D.O., for his research titled, "Kirschner Wire Utilization as Flexible Intramedullary Construct for Management of Metacarpal Shaft Fracture."
Third prize was awarded to Kevin A. Hough, D.O., for is research titled, "Lake Erie College of Osteopathic Medicine Senior Living Center urinalysis protocol study using the McGeer criteria." Dr. Hough collaborated with Nicholas Podhomiak, D.O., and Brandon Intrieri, D.O.