Noted Physician Discusses Preventing and Reversing Heart
Caldwell Esselstyn, MD, advocates plant-based diet to ensure heart health and overall wellness
Caldwell B. Esselstyn, MD, FACS, an author and expert on coronary artery disease, discussed the many significant health benefits of a plant-based diet during a guest lecture at the Lake Erie College of Osteopathic Medicine (LECOM).
Dr. Esselstyn, Director of the Cardiovascular Disease Prevention and Reversal Program at the Cleveland Clinic Wellness Institute, spoke to nearly 200 students and faculty in a lecture hosted by LECOM's Student Government Association. During his lecture, he described heart disease as a "toothless paper tiger" in that it is preventable for those willing and able to adhere to a strict plant-based diet.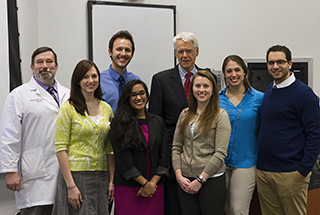 Shown with guest speaker Caldwell Esselstyn, MD (fourth from right) are Ted Makoske, MD, and students Larissa Wertalik, Allen Shepard, Deepika Ram, Erin Evans, Marissa Sanderson, and Anthony Salibi.
"As a society, we need to change our biochemistry by changing our diets," Dr. Esselstyn said. "Heart disease isn't some great mystery. We are empowered to take control of it and of our lives."
He noted that in certain parts of the world, including rural China and central Africa, coronary artery disease is virtually nonexistent because of the diet of their inhabitants. In contrast, he said the "Western Diet" – with a preference for red meat and foods high in sugar and fats – is responsible for contributing to high rates of obesity and other chronic diseases. He described the endothelium, the thin layer of cells that lines the interior surface of blood and lymphatic vessels, and how endothelial dysfunction is common in patients with coronary artery disease.
He acknowledged that while adhering to a plant-based diet isn't easy, particularly at first, it offers benefits such as greater physical mobility and reductions in total cholesterol and LDL. He encouraged the attendees to the lecture to avoid all oils – even olive oil – as well as meat, fish, fowl, dairy, and caffeinated coffee. Fruits, whole grains, legumes, and lentils, along with vegetables such as kale, spinach, and arugula, are much healthier alternatives. "No one ever got taken to the emergency room from overdosing on leafy green vegetables," he said.
Dr. Esselstyn also said that conventional cardiology, by focusing only on treatments for heart disease, as opposed to the root causes, hasn't served patients well. "Cardiologists aren't pleading for fewer patients," he said.
Unfortunately, doctors in certain other medical specialties have little to no one-on-one interaction with patients, and many of those who meet with patients are reluctant to discuss sensitive issues such as obesity and weight reduction. According to the American Medical Association, many physicians don't have such discussions because of time constraints. In addition, physicians
The lecture was part of the LECOM SGA "Great Names Speaker Series."
---
More about Caldwell B. Esselstyn, MD, FACS
Dr. Esselstyn is the author of Prevent and Reverse Heart Disease as well as more than 150 scientific publications. He also starred in Forks Over Knives, a 2011 documentary that suggested that many degenerative diseases, such as coronary disease, diabetes, and cancer, can be prevented or managed by adhering to a diet void of animal-based and processed foods. Noted film critic Roger Ebert called Forks Over Knives a "film that could save your life." Former President Bill Clinton is among those who have adopted the plant-based diet advocated by Dr. Esselstyn and others.
Dr. Esselstyn graduated from Yale University and received his M.D. from the Case Western Reserve University School of Medicine and was part of the United States' eight-man rowing team that won the gold medal at the 1956 Summer Olympics. He and his wife, Ann, have four children and 10 grandchildren.