LECOM Trustee John L. Johnston, D.O. Passes Away
It is with deep sorrow, that the Lake Erie College of Osteopathic Medicine announces that Board of Trustees member John L. Johnston, D.O. has passed away.
Dr. Johnston, 89, of Ridgewood Drive, Shippenville, died on December 22, 2011 at Clarion Hospital in Clarion, after a brief illness. He had been a surgeon at the hospital since 1976 and a member of the LECOM Board of Trustees since 1995. He received the 2010 President's Award for his service to LECOM and to his profession.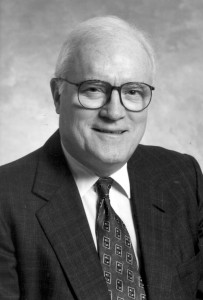 Born November 8, 1922 in Thornburg, Iowa, he was the son of Lial W. and Frances Pollock Johnston. He married Rhea Frances Hyink on September 6, 1947.
He received his Bachelor of Science degree in 1947 from Parsons College in Fairfield, Iowa after completing four years of wartime military service in the U. S. Army. He received his Masters of Science degree from the State University of Iowa in Iowa City in 1949. From there, he traveled to the Kirksville College of Osteopathic Medicine where he earned his osteopathic medical degree in 1952. He performed his Residency in General Surgery at South Bend Osteopathic Hospital in South Bend, Indiana from 1953 through 1957, and he continued there as a surgeon until 1963. After two years as a general surgeon in the Dallas-Fort Worth, Texas area, he and his wife moved to Grove City, Pennsylvania, where he was a general surgeon at Bashline Hospital, before relocating in Clarion in 1976. At Clarion Hospital, over the course of his career, he served as Surgical Department Chair, President of the Medical Staff, and as a member of the Board of Trustees.
During his career, he served as the Pennsylvania Osteopathic Medical Association State President, Vice President, and Secretary, and he was a Fellow of the American College of Osteopathic Surgeons.
He was honored as Clarion's citizen of the year in 2003. He was an Elder at the First Presbyterian Church of Clarion, and a member of the Rotary Club. He was a 50-year member of the Scottish Rite.
Surviving is a daughter, Cindy Johnston of Newport News, VA; a son, David Johnston and his wife, Lynn, of New London, PA; a brother in law, Howard Quimby of Kenyon, MN; a brother in law, Robert Hyink and his wife, Nanon, of Chesterfield, MO; a grandson, Ben, of New London, PA; and six nieces and nephews.
In addition to his parents and his sister, he was preceded in death by his wife in June, 2011.
Visitation will be held from 2-4 and 7-9 pm on Tuesday, December 27 at the Goble Funeral Home and Crematory on Wood Street in Clarion. Funeral services will be held at 11:00am on Wednesday, December 28 at the First Presbyterian Church in Clarion with Rev. Scott Hauser, Pastor of First Presbyterian Church officiating.
In lieu of flowers, the family suggests memorials may be made to either Clarion Hospital (Attn: Foundation Office), 100 Hospital Drive, Clarion, PA 16214, or Lake Erie College of Osteopathic Medicine (Attn: Scholarship Fund), 1858 W. Grandview Boulevard, Erie, PA 16509-1025.