Master's in Health Services Administration degree now offered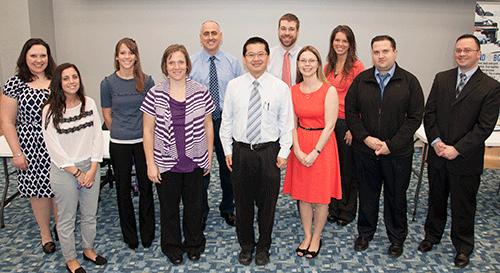 LECOM's inaugural MHSA class includes back row from left: Pamela Goldman, D.O.; Jillian Heschke; Anthony Ferretti, D.O.; Marcus Babiak, Pharm.D.; Jaime Babiak, Pharm.D.. Front row: Nicole Papanikos; Danielle Hansen, D.O.; James Lin, D.O.; Jessica Puckett, D.O.; Dominick Giovanniello, D.O. and Joseph Clark, D.O.
Healthcare professionals have come to the Lake Erie College of Osteopathic Medicine's Bradenton, Fla., campus ready to take their leadership skills to the next level as the school launches its new online Master's in Health Services Administration (MHSA) program.
Before going home to their computers for the rest of their distance education classwork, students are spending a week in Bradenton for orientation.
"The MHSA program is designed to provide working professionals and full-time students with the skills needed to become top administrators in the healthcare field," said Mark Kauffman, D.O., LECOM Assistant Dean of Graduate Studies.  "Students will focus on better ways to run a healthcare facility, build communication skills and learn how to make healthcare policy."
Marcus and Jamie Babiak are among the first 11 MHSA students.  The Erie couple both earned doctor of pharmacy degrees from LECOM in 2010 and now they are ready to learn new skills that will help them advance their careers.
"Earning my Master's (degree) in this program will set me apart from my peers and allow me to move up in the industry," said Marcus Babiak, Pharm.D., currently a pharmacist at Rite-Aid. "We can continue our careers and advance all at the same time."
LECOM's newest program has attracted physicians, pharmacists and other health-care professionals who are taking advantage of a program that allows them to work from their home or office computers.  They only meet face-to-face with the faculty three times for a total of 120 hours.
Anthony Ferretti, D.O., Clinical Professor of Orthopedic Surgery at LECOM and an orthopedic surgeon with Medical Associates of Erie is also enrolled.
"I've been a physician for 20 years and I've watched the profession grow from an art to an industry," said Dr. Ferretti. "It's very important to be able to communicate with and understand those on the business side of healthcare."
This first group has enrolled in an 18-month long program designed for working professionals. In June, the next class of MHSA students will follow a 24-month curriculum for students with more time to spend on their studies.
The U.S. Department of Labor Bureau of Labor and Statistics estimates that employment of health service administrators will grow by 22 percent from 2010 to 2020, faster than the average for all occupations, and receive a median annual pay of $84,270.  The program offers degree completion in 18 months for working professionals (January cohort) and 24 months (June cohort)for full-time students. More than 90 percent of the curriculum will be taught via distance education.