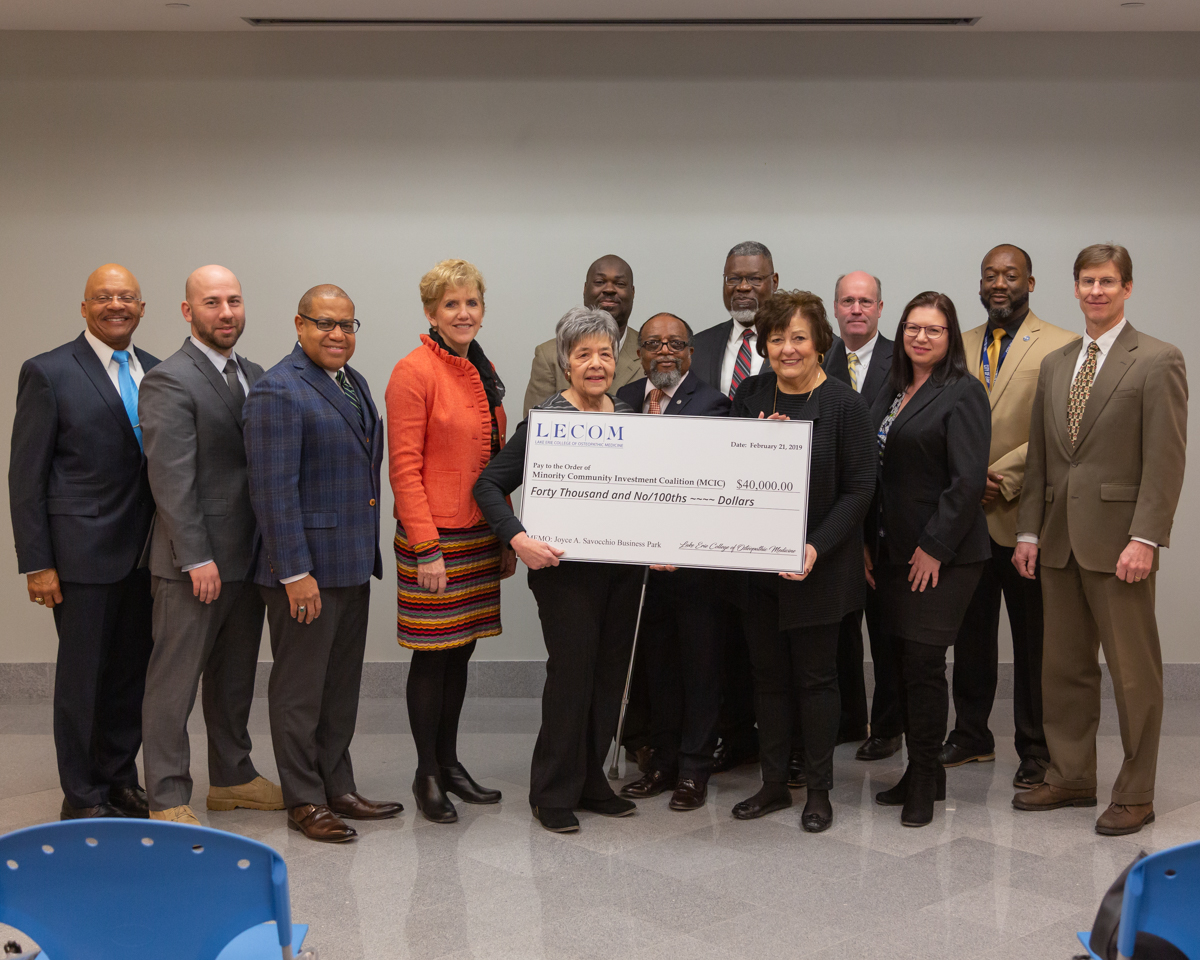 ERIE, PA – Officials with the Lake Erie College of Osteopathic Medicine (LECOM) furthered the school's philanthropic support of the Erie community by making a $40,000 donation to Joyce A. Savocchio Business Park during a ceremony today at the LECOM Medical Fitness & Wellness Center.
LECOM's contribution will be utilized for the initial development of the 19.11-acre park on East 17th Street, once home to a heavy-duty truck repair, auto maintenance and brake manufacturer as well as a neighborhood football field. Urban Erie Community Development Corporation, an affiliate of the Minority Community Investment Coalition (MCIC), recently acquired the property.
Now, as part of the Opportunity Zone tax incentive program, MCIC representatives plan to give the business park a green, healthy and equitable development focus. Plans call for a multi-use health and wellness facility, a community solar farm, an urban agricultural system and a small business incubator.
The park is named for former Erie mayor Joyce A. Savocchio, who advocated for the development of the industrial park during her 12 years in office. Savocchio is an affiliate LECOM board member and has been a longtime proponent of the medical college and LECOM Health.
"This generous donation from LECOM ensures that the initial phase of development of Joyce A. Savocchio Park, under the ownership of MCIC, will move forward with its proposed initiatives," said James Sherrod, executive director of the Martin Luther King Center, a MCIC affiliate. "We also believe LECOM's commitment will encourage additional support from the community, as the MCIC addresses issues associated with the new ownership of this 10-acre property, which has remained dormant for over 20 years."
"LECOM has a long tradition of supporting and investing in the communities we call home, and we're proud to continue supporting the growth and revitalization of Erie," said Marlene Mosco, LECOM board chair. "We're especially honored to support the Joyce A. Savocchio Business Park, named for not only a true champion of Erie and its residents but also of LECOM, its students and the future of health care."