276 receive M.S., D.O. and Pharm.D. degrees
The Lake Erie College of Osteopathic Medicine Bradenton campus celebrated its seventh commencement ceremonies on Sunday, June 8, at the Bradenton Area Convention Center in Palmetto, Fla.
One hundred and fifty-five College of Medicine graduates, 120 School of Pharmacy graduates and one Master of Science graduate in the Class of 2014 walked across the stage and received their Doctor of Osteopathic Medicine, Doctor of Pharmacy and Master's in Medical Education degrees, respectively.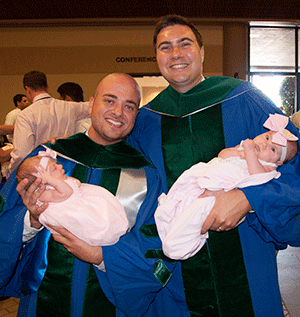 Dr. Dads: Michael Knipfing, DO with daughter Juliette (three-weeks old) and Michael Venezia, DO with daughter Madison (11-weeks old). Knipfing and Venezia are proud graduates of LECOM Bradenton's Class of 2014.
Nearly 32 percent of LECOM Bradenton's 2014 DO graduates, including Michael A. Venezia, are staying in-state to complete residency and internship training.
"Staying in Florida for residency was an easy choice," said Venezia, who will specialize in orthopedic surgery at Largo Medical Center in Largo, Fla. "I look forward to giving back to the community that I care so much about."
LECOM graduates come from a variety of backgrounds, with many coming from far distances to pursue their dreams of becoming an osteopathic physician or pharmacist.
Benjamin Kelley and his wife, Rachel, grew up in Anchorage, Alaska, and spent their life savings applying to medical schools. The couple has taken advantage of the opportunity LECOM has afforded them. Benjamin has received numerous awards and scholarships, including a $5,000 Award from the American Osteopathic Foundation. Rachel is the recipient of LECOM's American College of Osteopathic Family Physicians Award.
"It's a special thing to be honored for all of the hard work you have done," said Benjamin Kelley.
LECOM's main campus in Erie, Pa., held commencement ceremonies on June 1 for nearly 550 graduates.