Dr. Angela Benton (COM-Bradenton)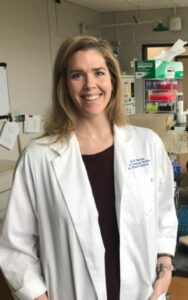 Background
Dr. Angela Benton received her PhD in microbiology and immunology from the University of Mississippi Medical Center in Jackson, MS. Much of her research focused on intraocular growth of Streptococcus pneumoniae. After obtaining her degree, she spent 2 years as a postdoctoral research associate at Virginia Tech studying metabolism and pathogenesis of the Brucella species.
Current Research Interests
As an assistant professor of microbiology and immunology at LECOM-Bradenton, her research focuses on ocular surface infections and bacterial adhesion to contact lenses.
On-going Projects
Serratia marcescens virulence on the ocular surface.
Bacterial attachment to contact lenses.
Bacterial survival in commercially available contact lens solution.
Potential Future Projects
Intraocular growth of Serratia marcescens.
Publications (National Library of Medicine Publications by Dr. Angela H. Benton)
Carr, M.A., Marcelo, D., Lovell, K.M., Benton, A.H., Tullos, N.A., Norcross, E.W., Myers, B., Robbins, M.K., Craddieth, H., Marquart, M.E. (2022). Absence of Streptococcus pneumoniae Capsule Increases Bacterial Binding, Persistence, and Inflammation in Corneal Infection. Microorganisms. 2022 Mar 25;10(4):710. doi: 10.3390/microorganisms10040710. PMID: 35456761.
Tupik, J.D., Coutermarsh-Ott, S.L., Benton, A.H., King, K.A., Kiryluk, H.D., Caswell, C.C., Allen, I.C. (2020). ASC-Mediated Inflammation and Pyroptosis Attenuates Brucella abortus Pathogenesis Following the Recognition of gDNA. Pathogens. 2020 Nov 30;9(12):1008. doi: 10.3390/pathogens9121008. PMID:33266295.
Budnick, J.A., Sheehan, L.M., Benton, A.H., Pitzer, J.E., Kang, L., Michalak, P., Roop, M.R., Caswell, C.C. (2020). Characterizing the transport and utilization of the neurotransmitter GABA in the bacterial pathogen Brucella abortus. PLoS One. Aug 26;15(8):e0237371. PMID: 32845904.
*Saleem, W., *Benton, A.H., Marquart, M.E., Wang, S., Saleem, W., Vigil, R., Huang, B., Sharma, A.C. (2019). Innovative Cold Atmospheric Plasma (iCAP) decrease mucopurulent corneal ulcer formation and edema and reduces bacterial load in Pseudomonas keratitis. Clinical Plasma Medicine. S2212-8166(19)30013-7.*co-first author manuscript
Benton, A.H., Jackson, M.D., Wong, S.M., Dees, J.L., Akerley, B.J., and Marquart, M.E. (2019). Atranscriptional activator of ascorbic acid transport in Streptococcus pneumoniae is required for optimal growth in endophthalmitis in a strain-dependent manner. Microorganisms. 7(9), 290. PMID: 31450542.
Pal, P., Nguyen, Q.C., Benton, A.H., Marquart, M.E., and Janorkar, A.V. (2019). Drug-loaded elastin-like polypeptide-collagen hydrogels with high modulus for bone tissue engineering. MacromolecularBioscience. 19(9):1970025. PMID: 31373780.
Jordan, C.D., Sullivan, A.L., Marquart, M.E., Hamadain, E., Williamson, R.S., Haynie, L.A., Bain, J.L., Benton A.H. (2018.) Hyperbaric oxygen in vitro against MRSA 301 and P. aeruginosa 19660. JournalMSMA. 59(10):442-456.
Maquart, M.E., Benton, A.H., Galloway, R.C., Stempak, L.M. (2018). Antibiotic susceptibility, cytotoxicity, and protease activity of viridans group streptococci causing endophthalmitis. PLoS One. 13(12): e0209849. PMID: 30576393.
Benton, A.H. and Marquart, M.E. (2018). The role of pneumococcal virulence factors in ocular infectious disease. Interdisciplinary Perspectives on Infectious Diseases. vol. 2018, Article ID 2525173. PMID: 30538741.
Benton, A.H., Fulton, L.K., & Marquart, M.E. (2017). Exogenous Streptococcus pneumoniaeendophthalmitis in diabetic rabbits. Scientific Reports, 7, 46196. PMID: 28387365.