Rodger Biringer, Ph.D.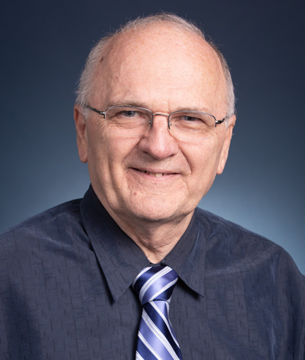 College of Osteopathic Medicine
Teaching Area

Biochemistry, Problem-Based Learning

Education

University of California, Santa Cruz
Campus Location

5000 Lakewood Ranch Blvd. Bradenton, FL 34211
Phone: (941) 782-5925
Biography
Dr. Roger Biringer is a protein biochemist with over 30 years' experience in industry and academia. He has a B.A. in Chemistry and Biology from UC Santa Cruz and M.S. in Chemistry from San Jose University. He received his Ph.D in Biochemistry from University of Santa Cruz in 1985 and a postdoctoral appointment in the Department of Chemistry of the same university in 1987. His doctoral and post-doctoral research focused on thermal denaturation of proteins and kinetics of protein folding. He continued this work for 13 years as an associate professor at San Jose State University and in the last two years there entered a collaborative research venture with Agilent involving micro-protein digesters and lab on a chip technology. At that time he moved on to Thermo Scientific where his research involved mass spectrometry-based proteomics. While at Thermo Scientific he entered into two long-term collaborations with Huntington Medical Research Institutes and Pressure Biosciences involving the proteomics of migraine and high-pressure protein digestion, respectively. Dr. Biringer moved back into academia in 2011 with posts at University of Tampa and Florida Southern College. He has been an Associate Professor of Biochemistry at LECOM Bradenton since June 2017.
Dr. Biringer is currently directing two projects: "Characterizing Na, K-ATPase activity and endogenous ligands in migraine" and "Fractionation of Samples Containing Potential Cancer Biomarkers". The former is part of a collaborative effort with Huntington Medical Research Institutes and Thermo Scientific. Current focus is on developing Na,K-ATPase activity assays and monitoring activity in the presence of endogenous and synthetic ouabain-like compounds in an effort to better understand migraine and the treatment thereof. The latter is part of a joint research collaboration between LECOM and Biocent Dx. Current focus is on utilizing dogs as detectors of cancer biomarkers in an effort to develop a robust sample fractionation methodology leading to the identification of the minimum number of cancer biomarkers required to positively identify the disease.
Recent Publications
Biringer, R.G. (2020) The Rise and Fall of Anandamide: Processes that Control Synthesis, Degradation and Storage. Mol. Cell. Biochem. (in press)
Biringer, R.G. (2020) The enzymology of the human eicosanoid pathways: The lipoxygenase branches. Mol Biol Rep in press doi.org/10.1007/s11033-020-05526-z
Biringer, R.G. (2020) The enzymology of the human prostanoid pathway. Mol Biol Rep 47, 4569–4586. doi.org/10.1007/s11033-020-05526-z
Biringer, R. G. (2019) The Role of Eicosanoids in Alzheimer's Disease. Int J Environ Res Public Health. 16(14).
Junqueira H, Quinn TA, Biringer R, Hussein M, Smeriglio C, Barrueto L, Finizio J, Huang XYM. (2019) Accuracy of Canine Scent Detection of Non-Small Cell Lung Cancer in Blood Serum. J Am Osteopath Assoc. Jun 17. doi: 10.7556/jaoa.2019.077.
Biringer, R. G. (2018) The Enzymes of the Human Eicosanoid Pathway. Res Rep Med Sci 2:1