Daniel L. Austin, Pharm.D., M.S.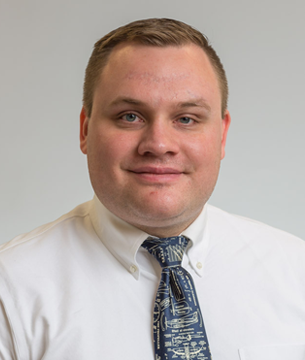 School of Pharmacy
Teaching Area

Pharmacology, Pharmacy Practice

Education

St. John Fisher College - Wegmans School Of PHarmacy; University Of Rochester
Biography
Dr. Daniel Austin completed his Bachelor of Science degree at the State University of New York College at Fredonia. He continued his studies at Wegmans School of Pharmacy at St. John Fisher College where he received his Doctor of Pharmacy degree. Following the completion of his professional degree, Dr. Austin practiced community pharmacy in the Rochester, N.Y., area. He also continued his postgraduate studies at the University of Rochester where he completed his Master of Science degree. At the University of Rochester, Dr. Austin's research in the Boeckman Lab consisted of organic synthesis and structure-activity relationship studies for drug discovery and lead optimization. Throughout his collegiate and professional career, he has developed enthusiasm and passion for teaching. He particularly enjoys interdisciplinary courses and active learning. Dr. Austin joined the LECOM Erie faculty in Fall 2016 as an Assistant Professor of Pharmaceutical Sciences and Pharmacy Practice.