Delbert Abi Abdallah, Ph.D.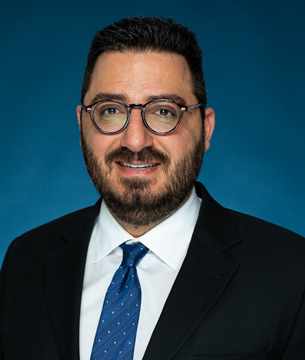 College of Osteopathic Medicine
Teaching Area

Immunology, Infectious Diseases

Education

Cornell University
Campus Location

1858 W. Grandview Blvd. Erie, PA 16509
Phone: (814) 866-8470
Biography
Dr. Abi Abdallah is an assistant professor of immunology and microbiology at Lake Erie College of Osteopathic Medicine in Erie, Pennsylvania. He is responsible for teaching immunology and microbiology to first- and second-year medical students and to graduate students in the Master's and PhD programs. Dr. Abi Abdallah received his Bachelor of Science degree in microbiology and cell science from the University of Florida. He then pursued his doctoral work in immunology and infectious diseases from Cornell University. He then completed post-doctoral work at Cornell University working on vaccine development.
Dr. Abi Abdallah's extensive teaching, administrative, and service experiences span multiple institutions. Prior to LECOM, Dr. Abi Abdallah served as guest lecturer at Cornell University, adjunct faculty at Tompkins Cortland Community College, and assistant professor of biology at Thiel College. He has taught a variety of topics and courses, such as general biology, human biology, medical microbiology, medical parasitology, immunology, immunology of infectious diseases, cell biology, toxicology, medical terminology, the practice of laboratory animal medicine, as well as various seminar courses, among others. At Thiel College, Dr. Abi Abdallah was the inaugural director of the college's research institute, tasked with promoting and advancing basic research at the college. Throughout the years, Dr. Abi Abdallah has served as advisor to numerous student clubs and organizations, has served on many institutional committees, and mentored multiple student research projects.
Dr. Abi Abdallah's maintains an active research program and is always willing to mentor students for research. Students interested in research should contact Dr. Abi Abdalllah via email. Current research interests focus mainly on two projects:
– studying immune responses to Listeria monocytogenes, a food-borne pathogen
– using technology and virtual simulations to teach complex scientific topics
Dr. Abi Abdallah is passionate about science outreach to the lay public and believes that scientists have an obligation to educate the public about the science that they do. As such, he started, along with a colleague, a podcast aimed at debunking science myths and tackling the most controversial science topics. The podcast, called The Bio Busters, can be found at www.thebiobusters.podbean.com.
Dr. Abi Abdallah is the recipient of multiple awards and honors. Those include the Excellence in Teaching Award, the Distinguished Faculty Scholar Award, and a Citation from the Pennsylvania House of Representatives for an "exemplary record of service contributions", among others.