LECOM Student Pharmacists teach kindergarteners about medicine safety
Thursday, 06 November 2014
Students at Grover Cleveland Elementary learn that medicines and candy can look very similar
Six LECOM student pharmacists teamed up with the Safe Kids Erie program to make sure that a group of local elementary school children know how to stay safe around medicines.
In keeping with LECOM's mission of community service, the student pharmacists gave a Generation Rx presentation to kindergarteners at Grover Cleveland Elementary School, located in the Erie School District.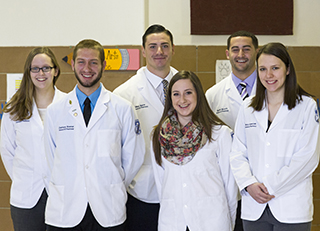 Second-year student pharmacists Jennifer Barlekoff, Zach Bowser, Max Baire, Britny Appel, Scott Booth and Mary Krawczak spoke to kindergarten students about the importance of medicine safety.
Second-year student pharmacists Zach Bowser, Jennifer Barlekoff, Max Baire, Scott Booth, Britny Appel, and Mary Krawczak, members of LECOM's chapter of the American Pharmacists Association-Academy of Student Pharmacists (APhA-ASP), spoke to the children. Generation Rx is an educational initiative designed to increase public awareness of prescription medication abuse and to encourage health care providers, community leaders, parents, and others to work to prevent abuse.
The student pharmacists emphasized several points during their visit with the kindergarteners:
Medicines and candy very often look similar and in some cases can look identical. The student pharmacists showed a series of slides of medicines and candy and cautioned the kindergarteners to always ask an adult if they can't tell the difference.
Medicines should not be shared with others.
Medicines can be harmful if not taken as prescribed or for their intended purpose.
Medicines always should be stored in a safe place, such as a medicine cabinet.
Michelle Fiorelli, Principal of Grover Cleveland Elementary, was grateful for the student pharmacists' efforts. "We're very appreciative of how generous they are with their time," Fiorelli said. "It's very important that the children learn about medicine safety at an early age, so that they can begin to develop good habits."
Community service and promoting improved health for all are key aspects of LECOM's mission. LECOM's Doctor of Osteopathic Medicine (DO) and Doctor of Dental Medicine (DMD) students also host and participate in events designed to educate others on important and timely health-related issues.
---
More about LECOM
The Lake Erie College of Osteopathic Medicine (LECOM) is the nation's largest medical college, and with Millcreek Community Hospital and the Clinical Practices of LECOM forms the only osteopathic Academic Health Center in the United States. LECOM is at the core of this highly innovative medical education system and strives to add to the quality of life of its neighbors by bringing total health care to the community. LECOM is preparing the next generation of osteopathic physicians, dentists, and pharmacists at campuses in Erie and Greensburg, Pa., and in Bradenton, Fla.
---
More about Safe Kids Erie
Since 1991, Safe Kids Erie has worked with local parents and families to raise awareness of injury prevention through educational programs and community initiatives. The program's areas of focus include poison prevention, fire safety, water safety, traffic and school bus safety, bicycle safety, and car seat safety. The program, previously administered by the Erie County Department of Health, makes available to local families various safety products and devices at no cost