Rahul Deshmukh, Ph.D., M.S.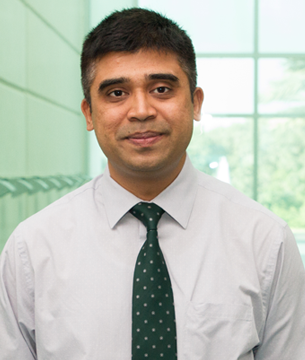 School of Pharmacy
Teaching Area

Pharmacology

Education

Wayne State University, Detroit, MI
Campus Location

5000 Lakewood Ranch Blvd. Bradenton, FL 34111
Phone: (941) 782-5646
Biography
Dr. Rahul Deshmukh received his Bachelor of Pharmacy from the University of Pune and Master of Pharmacy from the Bharati Vidyapeeth University, India. He also received his Master of Science in Pharmaceutical Sciences from the University of Maryland. He completed his Ph.D. at Wayne State University (WSU). He was a recipient of the Thomas C. Rumble fellowship as well as the Graduate Student Professional Travel Award at WSU. His Ph.D. research focused on the study of crosstalk between 5'-AMP-activated Protein Kinase (AMPK) and Ubiquitin Proteasome System (UPS) as well as novel methods to sensitize solid tumors to proteasome inhibitors. Dr. Deshmukh has many years of research experience in drug design and discovery, natural products, and repurposing FDA approved drugs for the treatment of cancer. Dr. Deshmukh has contributed to many publications so far including original research articles, review articles, and book chapters. He serves as an ad hoc reviewer for several peer-reviewed scientific journals.