The LECOM Summer Primary Care 2018 CME Conference
Welcome to the 2018 LECOM Summer Primary Care CME Conference. Below you will find links to the lecture handouts, the conference schedule and the conference and speaker evaluation forms. In order to receive proper credit for attending the conference, the conference evaluation form must be filled out. This form will not be available until Thursday, August 16 at 8am. The speaker evaluation will be available for the duration of the conference. This form is used to evaluate the effectiveness of our speakers and the quality of their lectures and lecture material. This form is not required, but we would greatly appreciate it if you took the time to fill this out.

Thank you for joining us for the conference! Should you need any assistance, please see a member of the conference staff.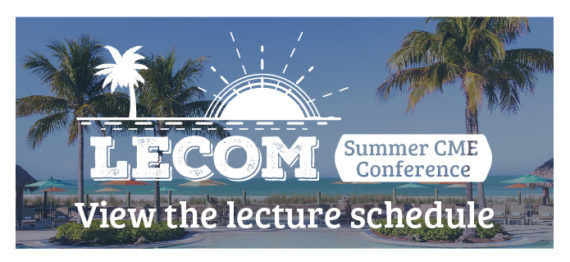 Save The Date!
The LECOM Primary Care 2019 CME Conference will be held February 28-March 3, 2019. Registration will open in October. Fill out the form to be notified when registration opens.
---
Attention Clinical Preceptors: Since June 1, 2013, the LECOM Clinical Education Department will automatically award Category 1-B Continuing Medical Education credits for all clinical adjunct faculty and preceptors who teach our medical students.   Following each student rotation, Clinical Education staff will email a credit report to faculty members.  The department will also submit regular credit reports to the AOA.  Non-AOA members may use the certificate or email credit report to present to licensing boards and board certification associations.  For more information contact Jennifer Murphy at LECOM Clinical Education, (814) 860-5133 or email. There is no longer any need to submit paper forms or use the online CME survey to report these credits.