LECOM Teaches Physicians to Become Better Teachers
The following article appeared in the Pennsylvania Osteopathic Medical Association Journal Dean's Den column.
The success of our students depends a great deal on the quality and experience of the professors and physicians who teach them. As a leader in faculty development, LECOM has trained physicians to become better teachers through national and regional workshops.
In May 2010, LECOM will graduate its fourth M.S. Medical Education class, with a combined total of 44 degrees granted.
We designed this two-year, 32 credit hour curriculum specifically for clinicians who desire careers in academic medicine and academic leadership. LECOM seeks to prepare physicians and healthcare professionals who, as educational leaders, possess the knowledge, skills and behaviors necessary to create and sustain curricular and educational innovation.
This program assures that the MS in Med Ed graduates are well equipped to advance the science and practice of medical education. We expect graduates of the MS in Med Ed curriculum to pursue careers in academic osteopathic medicine and achieve positions of leadership within their medical education settings.
An emphasis on curriculum distinguishes our program from other MS in Med Ed programs. The curriculum is divided into three components. The first component covers the full scope of the "Fundamentals of Medical Education." In four courses, we teach educational theory, the relationship between medical education and medical quality, instructional designed educational assessment and examination, and competency-based education. We provide the basics of working with individual learners, working within difficult teacher-learner situations, lecturing skills, small group teaching skills, advising and mentoring skills, giving and receiving feedback, and the fundamentals of conducting valid and reliable evaluation.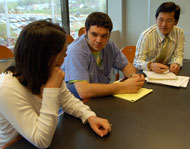 The third course covers the topics felt to be most necessary to assuring successful curriculum implementation including delegation and supervision, negotiation, meeting management, and money and time management. The fourth course covers newer topics that have not traditionally been part of the medical school curriculum, but which are invaluable to the physician-educator. The topics include evidence-based medicine, research design and implementation, grant-writing and funding opportunities, health care management and medical-legal issues, both with an emphasis on academic medicine. Finally, the "Fundamentals" series concludes with a reflective course on leadership.
The second and third components of the curriculum run concurrent with the "Fundamentals" courses. These include the educational practicum and the master's curriculum project course.
The education practicum requires the students to participate in a wide variety of teaching activities such as lecturing, problem-based learning facilitation, advising and mentoring, and clinical preceptorships. After each practicum session, a survey is completed which asks the student to reflect on what worked well, what could have been improved, and what they learned about themselves as a teacher.
It is the philosophy of this Master of Science program that curriculum design and implementation is the most powerful tool available to the educator who wants to create and lead change in academic medicine. As Liberty Eberly, DO, Millcreek Community Hospital psychiatry resident and member of the Master's Class of 2007 says, "Curriculum is the key to changing the world!"
The master's curriculum project was designed to assist in developing curricula in the form of a grant proposal. Students research the need for the curricular innovation, and present the rationale for the change.
In January 2008, LECOM created an online distance education version of the master's curriculum. Students will cover the "Fundamentals" course material in an interactive learning environment that will include podcasts, chat rooms, bulletin board discussions, and other leading distance education innovations. At least once, students will convene for "experiential learning" at LECOM's Erie, PA, in the form of a culminating capstone experience. The educational practicum can be completed at the student's home site and the curriculum project will hopefully be tied into a true need at the student's home program, making the results of the student's education immediately available to their entire program or COM.
The ideal student for this curriculum is a graduate medical practitioner – DO, MD, PA, NP or other related health care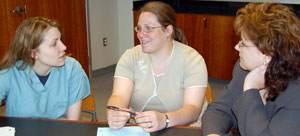 profession – who aspires to a career in academics and has opportunity to teach in their current setting. Interns, residents, fellows, and faculty are ideally suited to enter this curriculum.
Kevin Thomas, DO, LECOM assistant clinical professor of OMM and Family Medicine, reflecting upon his most important lesson from the MS in Med Ed program, he has realized how much the maturity of the teacher impacts the development of the student. "Our discussions focusing on competency, learner development, and teacher development have pointed me to the place my (own teaching) attending had achieved long ago. In order to help someone get to where you are, you first have to know where that is. Being transparent about one's own circumstance as a teacher sets the framework that frees both the student and teacher to grow and develop."
The November 2006 issue of Academic Medicine was devoted to a discussion of medical education fellowships and their impact. Gruppen, Simpson, Searle, Robins, Irby and Mullan, in their article "Educational Fellowship Programs: Common Themes and Overarching Issues"1 discuss how fellowship programs, and Master's curricula such as the one established by LECOM, can serve both individual needs as well as institutional needs. By focusing on education and leadership, personal and organizational effectiveness are both enhanced. They note that among the outcomes of such programs are promotions, attainment of new leadership positions both locally and nationally, and increased productivity in the form of peer-reviewed papers and presentations for program completers. Institutional benefits include the production of innovative curricula and a pool of educational leaders. These are precisely the outcomes that LECOM strives for through its new Masters of Science in Medical Education degree program.
1 Gruppen LD, Simpson D, Searle, NS et al. Educational fellowship programs: common themes and overarching issues. Acad Med. 2006;81:990-994