LECOM Coffee Culture Cafe and Eatery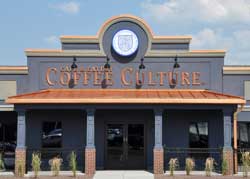 Since the first day the restaurant opened in July 2011, patrons have been lining up to try the coffee, baked goods and breakfast sandwiches made fresh in the café kitchen. The restaurant offers comfortable seating in a warm, inviting atmosphere, where customers can spend time meeting friends or co-workers, working online, reading or just relaxing with some favorite activity.
Coffee Culture Café & Eatery is designed like a "European Café" with granite table and counter tops. The upscale interior makes the restaurant unique. There is a "soft seating" section with leather chairs, fire place and flat screen TV for those who just want to relax with a cup of their favorite high quality coffee and enjoy the free Wi-Fi internet access.
The menu includes specialty coffees including cappuccino, lattes, chillers and coffee blends; and also a variety of soups, salads, specialty panini sandwiches, pizza and wraps. Customers also can enjoy their beverages and meals outside on a covered patio.
Coffee Culture bakes fresh daily on premise offering muffins, pastries, scones, croissants, cookies and serving upscale gourmet cakes.
The College remodeled the student center at 5761 Peach Street to accommodate the 65 seat restaurant which is open daily from 6:30 a.m. to 11 p.m Sunday through Thursday and 6:30 a.m. to Midnight on Friday and Saturday.
While the restaurant is open to the public, students will continue to have secure access to the south side of the building. The renovations allow the students to take advantage of the private space to study, hold club and student government meetings and social activities, now with the advantage of having a café next door. See more photos of opening day at Coffee Culture Café and Eatery.
Coffee Culture Cafe and Eatery is located at 5761 Peach Street, Erie, PA 16509. The phone number is (814) 860-3310.