Welcome to Florida's Gulf Coast
Welcome to Florida's Gulf Coast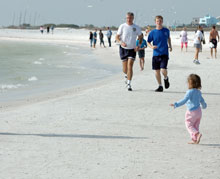 There is a saying in Southwest Florida – "Every day is a holiday!"
Of course, for a medical student there's not much time for holidays, but there is something to be said about living in a community surrounded by all the features sought out by world travelers and major corporations – year-round sunshine, warm tropical climate, breathtaking sunsets, white sandy beaches, museums, operas, ballets, plays.
You can participate year round in your favorite outside sports like boating, golf, tennis, water skiing, fishing, soccer and more. The Sarasota/Bradenton area has been ranked by national media as one of the top 25 places in the United States to live. With an average of 238 sunny days per year, white sandy beaches and a rich cultural and arts community, it's no wonder it is often referred to as "paradise."
LECOM Bradenton is located about an hour south of Tampa and just a mile east of I-75. The I-75 South corridor takes you through Manatee, Sarasota and Charlotte Counties, three counties that form the 7th-largest market in Florida and Florida's third-fastest growing region. Over 600,000 people live in these three counties.
Within the two contiguous cities of Bradenton and Sarasota, you'll find island charm with big city culture.
Sarasota is recognized as Florida's Cultural Coast. One of the great contributors to that distinction is the Van Wezel Performing Arts Hall. Throughout the year, the Van Wezel offers top nationally and internationally acclaimed performances of Broadway musicals, entertainers, and world class orchestras.
Each year during the month of April, Sarasota hosts its annual Film Festival. Visitors can explore the brightest new stars of independent film during 10 days of screenings, premieres, symposiums and parties with filmmakers.
The Sarasota Opera House underwent a $20 million renovation. Opera fans can look forward a 2011 opera season featuring Verdi's Rigoletto, Puccini's La rondine and more. The arts abound in both Sarasota and Bradenton. Just a small sampling of the offerings include the Village of the Arts near downtown Bradenton. Local artists' work is promoted each month with Art Walks on the first Friday and Saturday of each month. In Sarasota, the world renowned Ringling Estate houses the John and Mabel Ringling Museum of Art, Circus Museum, and the spectacular Ca d'Zan waterfront mansion.
Selby Botanical Gardens is a botanical world all unto itself with 13 acres and a plant collection of more than 20,000 greenhouse plants and thousands more in the outdoor gardens on Sarasota Bay.
Bradenton's LECOM Field has been the spring training home for the Pittsburgh Pirates since 1969 and touts the most affordable ticket prices in its league. The Baltimore Orioles play at Ed Smith Stadium in Sarasota. During the month of March, baseball fans can enjoy baseball at its finest.
And, if you can't find enough to keep you busy in Bradenton and Sarasota, traveling to areas around these two cities is easy, with quick access to Interstate-75. Tampa and the Tampa Bay Buccaneers, Lightning or Rays; Florida Aquarium, Dali Museum and other attractions, are only an hour north of Bradenton. Disney World's many attractions, near Orlando, are only 125 miles away, about a 2.5 hour drive.
"I love living in Lakewood Ranch because it still has a small town feel with all the benefits of living in the city. The new 'Main Street' has wonderful small shops and restaurants. But we are still in close proximity to larger malls as well." – Bethany Steadman, second-year medical student from southern California.