Nearly three out of four Americans report that they do not always take their medications as directed. Poor adherence leads to serious health consequences and avoidable costs. And, as more and more Americans are affected by at least one chronic condition, the costs for patients and the health care system continue to grow. Yet too many Americans simply don't understand the consequences of poor adherence.
This January through March, an interdisciplinary health care team led by LECOM pharmacy students will kick off a series of community outreach events in Erie, Pennsylvania and Bradenton, Florida.  These teams will be comprised of pharmacists, pharmacy students, physicians, medical students, dentists, dental students, nurses and elected public officials.  The events are aimed to raise awareness about the health consequences of not taking medications as directed.  More than one-third of medicine-related hospitalizations and almost 125,000 deaths in the United States each year are due to people not taking their medicine as directed.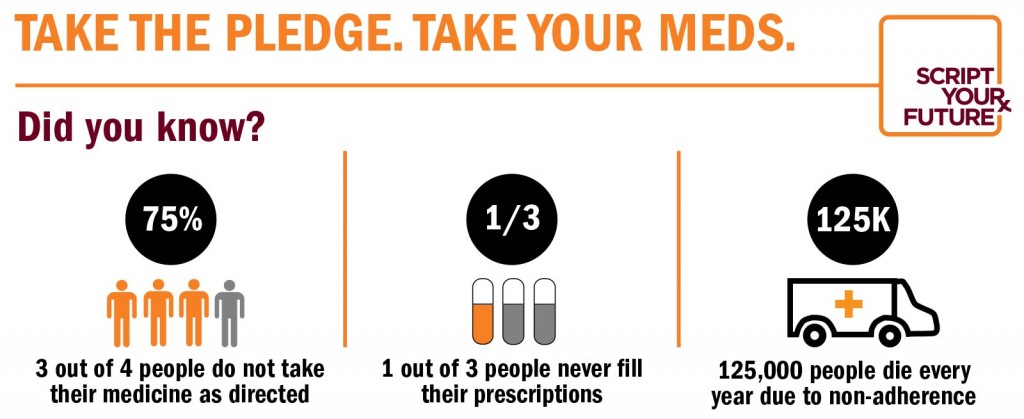 The students are supported by the Script Your Future campaign, a national coalition of more than 130 public and private stakeholder organizations, led by the National Consumers League (NCL).  The campaign provides tools to help patients and health care professionals better communicate about ways to improve medication adherence. The American Association of Colleges of Pharmacy (AACP), the National Association of Chain Drug Stores (NACDS) Foundation, the American Medical Association (AMA), and the National Community Pharmacists Association (NCPA), sponsors of the Challenge and campaign partners, are leading efforts to engage the next generation of health professionals in the campaign.
"There are many reasons why people don't take their medicine as directed, but the consequences for patients are the same," said Hershey Bell, MD, Vice President of Academic Affairs and Dean of the LECOM School of Pharmacy.  "Non-adherence puts patients, especially those with chronic conditions, such as diabetes or asthma, at risk for serious complications."
Do you have trouble taking your medications as directed?  Try some of these tips:
•       Develop a schedule or system that fits your normal routine
•       Use a calendar
•       Use daily or weekly pill boxes
•       Use an alarm
•       Ask family members to remind you
•       Post reminder notes
•       Sign up for automatic refills and reminder phone calls
For more tools and resources, visit www.ScriptYourFuture.org.  Follow the campaign on the LECOM Facebook and Twitter pages.